Heather Locklear arrives on Melrose Place next week, and all we have to say is: Thank goodness!
The show has dragged for weeks now. No storyline stands out, largely due to the fact that Sydney's murder is no longer a mystery, due to the firing of Colin Egglesfield and Ashlee "I Suck!" Simpson.
On last night's installment - titled "Ocean" and recapped in detail on TV Fanatic - David made a move on Lauren and Jonah made amends with Riley.
Before doing so, however, he turned down the advances of Ella, which was dumb for two reasons:
Has he looked at Ella Simms?!?
This is why we watch Melrose Place: for tawdry sex and immoral actions. Jonah going home to Riley instead of to a hotel with Ella isn't sweet and romantic; it's boring and lame.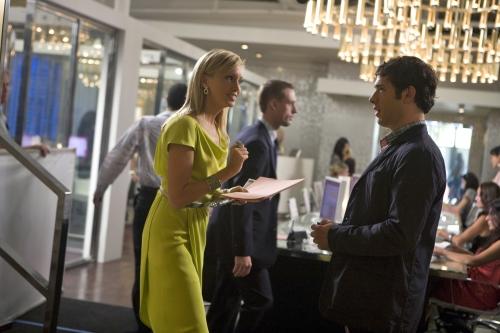 At least we got to see the old, manipulative Michael Mancini back in action. That's always a welcome sight.
So is any sort of character development, which we've sort of gotten with David. His crush on Lauren was actually believable; though, again, wouldn't it be more fun to watch her juggle a new boyfriend and a set of sex-crazed clients, as opposed to making the rational decision to rebuke David's advances?
We hope Amanda brings the drama next week. There's little doubt she will.
As always, there were a few choice Melrose Place quotes from the night at least:
Ella: Nothing about you is normal, and everything about Riley is normal. Painfully normal! | permalink
Violet: Either get me a lawyer, or I get you divorced. | permalink
Michael: There's a long list of students that would give their right arm for your spot. Don't blow it. | permalink
Ella: What would a boy do without his balls? | permalink
Matt Richenthal is the Editor in Chief of TV Fanatic. Follow him on Twitter and on Google+.