He's coming back.
Red John, the man that murdered Patrick Jane's family, is getting ready to kill again on The Mentalist. Viewers should circle November 19 on their calendars - and then possibly hide under a desk.
On the episode titled "His Red Right Hand," the CBI team finds a dead body in a cemetery.
"And then [the case] takes some twists and turns involving Red John," producer Ashley Gable told TV Guide Magazine. "It is clear they are dealing with something much darker. And our [main cast] will be in jeopardy."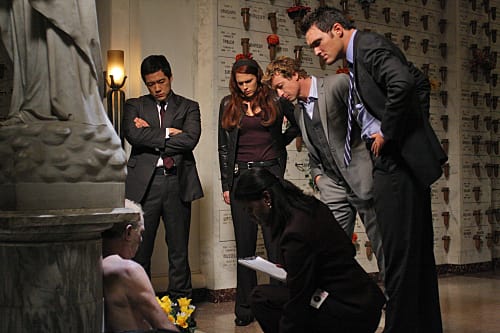 Fans can look forward to another appearance of the mystery murderer's signature red smiley face.
But what about the man himself? Will we learn his identity on November 19?
"I can tell you for sure we will not," said Gable. "The answer is locked in the brain of [show creator] Mr. Bruno Heller, the keeper of the secret. Talk to me in Season 7."
We're gonna take that as a no. Darn.
Matt Richenthal is the Editor in Chief of TV Fanatic. Follow him on Twitter and on Google+.