Roark Critchlow is a familiar face to soap opera fans.
He played one half of the popular Days of Our Lives couple, Mike and Carrie, in the 90s. Now, the actor has resurfaced in primetime: he has a recurring role on ABC's V, portraying Paul Kendrick, Erica's boss at the FBI.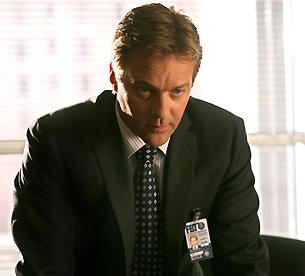 Following this week's episode of the show, viewers are asking: might Paul be a Visitor? He touched on this topic, and others, in an interview with TV Guide Magazine...
On his character: "He's relatively tough and likes to play by the rules. After [Erica] discovers that her partner is a V, she wonders 'who else'? And there's reasons for me to be distrustful of her. I could definitely turn out to be a V, but that's not resolved in the two episodes I've shot so far."
On former co-star Jensen Ackles: "Jensen is one of the better people I've known. And I watch him on Supernatural. He's so funny. We used to hook up for a beer every now and then. But I will hunt him down when production on V starts up again in January."
On a return to Days of Our Lives: "If I'm not working on V or something else, I'd do a week. Heck ya. That would be fine."
Matt Richenthal is the Editor in Chief of TV Fanatic. Follow him on Twitter and on Google+.