It's been a year and a half of foreplay.
But The Mentalist viewers that have been waiting for Wayne Rigsby and Grace Van Pelt to get together will finally be rewarded for their patience next week, when this pair hit the sheets together.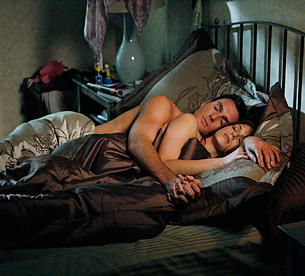 In an interview with TV Guide Magazine, Owain Yeoman spoke about the evolution of their characters and their relationship. A few excerpts:
On the photo/scene above: "This is at the start of the episode. I hope this will give fans a taste of what they want. People seem to have a taste for blood and a taste for romance. If you're in a vampire show, that normally unites the two, but for us this is the pay-off to a season and a half's worth of teasing."
On Jane's reaction to the relationship: "I think he knew before even we did. Jane called it in the pilot when he turned around and said, 'Why doesn't Rigsby invite you to his bedroom?' And then I proceeded to choke on a lobster. I think what you're going to see over the next several episodes is Jane enjoying that leverage."
On professional vs. personal lives: "These people are cops first so there's the responsibility that if you've got people out there focused on your well-being you want them to be focused on that. There is a situation in an upcoming episode where those loyalties are tested."
Matt Richenthal is the Editor in Chief of TV Fanatic. Follow him on Twitter and on Google+.