Stefan turned 162 years old this week on The Vampire Diaries - and he celebrated by almost killing his brother!
Read all about it in our recap of "162 Candles." We also got to meet Lexi, though we might not be seeing her ever again.
This episode started out slow, but when the action picked up, it really picked up! Let's review a few of the plot points that worked and a couple that need work:
THIS WORKED: The casting of Marguerite MacIntyre as Sheriff Forbes. She's hard to read, which is always a good thing for a character. Does she really believe Damon has pure intentions? Or is she on to him, at least just a little bit?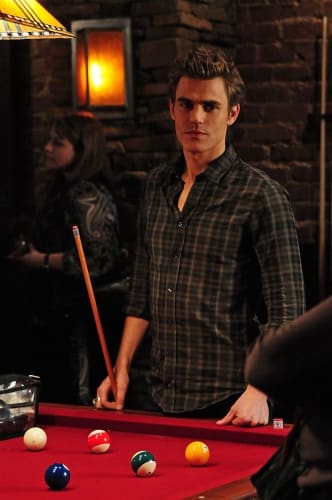 THIS WORKED: The relationship between Stefan and Elena. They're not together, but they're certainly not not dating... if you know what we mean. That's actually how high school relationships often work; and we're glad the show is giving these characters constant interactions and connections, instead of playing the "will they or won't they?" card.
THIS NEEDS WORK: The secondary characters. With the exception of Forbes, it's hard to get into Caroline, Matt or even Bonnie. The first is just your stereotypical cheerleader; the second seems too nice to be real; and the witch storyline has taken too long to develop. Based on the conclusion of the episode, perhaps the latter will now change. And based on a werewolf rumor, perhaps there will soon be another side to Matt.
THIS NEEDS WORK: It's not clear to me why Stefan spared Damon. No one is advocating for Damon's demise, far from it. That guy rules! But Stefan's speech about all the mayhem and death Damon has caused made perfect sense. We know they're brothers, but come on. Once Stefan had made up his mind, as he claimed to Elena moments beforehand, wouldn't he have gone through with it?
Agree with this review? Disagree strongly? Weigh in now in our Vampire Diaries forum.
Also, check out a few of our favorite quotes from the episode:
Stefan: Everywhere that I go, pain and death follow. Damon follows. No more. | permalink
Caroline: I'm worse than shallow. I'm a kiddie pool. | permalink
Damon: Does it get tiring, being so righteous?
Elena: It flares up in the presence of psychopaths. | permalink
Damon: Stefan smiles. Alert the media! | permalink
Stefan: Elena is warm and kind and caring and selfless and it's real. When I'm around her, I completely forget what I am. | permalink
Matt Richenthal is the Editor in Chief of TV Fanatic. Follow him on Twitter and on Google+.