This week's episode of The Venture Bros. had slightly more back story than last week's, but was still an episode presented purely for entertainment.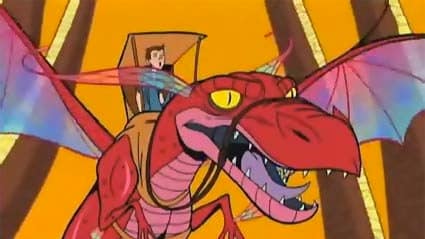 So far we love where season four is going.  This episode had plenty of throwbacks, including the obnoxious possible illegitimate son of Brock, Dermott, while slowly revealing more about the Venture universe.  Season three was a little too heavy on backstory without all the entertainment this season has brought.
Unfortunately, we had another episode with almost no Brock, but Sgt. Hatred has done as good of a job as anyone could with such enormous shoes to fill.  This episode Brock was featured in a cool flashback, but didn't even say a word.
Our favorite part of this episode were the seemingly unrelated plotlines all come together and exploding in the end.  Plus we love any episode that involves the cops or any other normal part of civilization interacting with the bizarre world of The Venture Bros.
Catch up on any events you may have missed in our detailed recap of "Perchance to Dean." 
Follow the jump for our favorite Venture Brothers quotes from the episode.
Hank: How come Baby Einstein gets his own lab and I'm stuck pushing boxes around? When do I get to train for my future career?
Dr. Venture: Who says you aen't right now? | permalink
Dermott: Why do you think they used to call me "the Wolf?"
Hank: Nobody calls you that.
Dermott: Well, they did back in my old neighborhood. When they weren't calling me "psycho." There was actually a war between two gangs over which nickname to call me. Both gangs won | permalink
Dermott: You think being grounded is bad? Try prison. That's like being grounded for life. And instead of chores... butt sex | permalink
Sgt. Hatred: It's a fresh new twist on a classic decoy tactic. We place 'em in key locations around the compound, and the next time your Monarch or your Baron Whats-His-Bheit comes a-knockin', he gets spanked in the face with five feet seven inches of screamin' hot stop it!
Dr. Venture: I'm five ten.
Sgt. Hatred: Yeah, maybe with them fancy elevator Beetle boots of yours | permalink
Eric Hochberger is the programmer of TV Fanatic, so please forgive his mediocre writing. His programming is far better. Follow him on Twitter and/or email him. Just don't request threaded comments. They're coming.