Combine Independence Day with Battlestar Galactica and you have one of the better series premieres in recent memory.
Catch up on the V pilot episode right now and then check out our review below to see why this is already on our must-watch list...
Characters We Care About: This is ABC's second attempt to replicate the cult-like following of Lost. Unlike the first, FlashForward, V has immediately established layered characters, portrayed by talented actors. Elizabeth Mitchell has been received a bulk of the attention in the weeks leading up to this episode, but Scott Wolf nailed the role of a reporter torn between personal beliefs and professional ambition.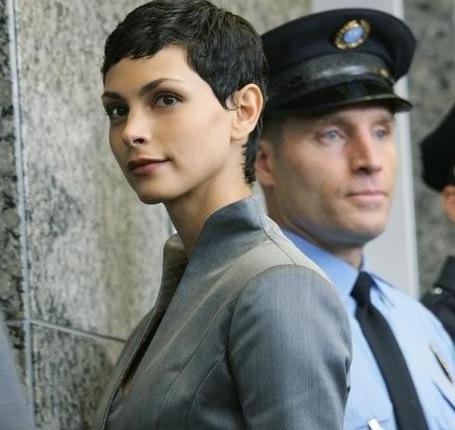 Mysteries We're Invested In: Again, FlashForward has struggled to establish mysteries that actually hold our attention. Does Olivia cheat on Mark? We hope not, we guess, but it's difficult to feel overly invested in that possibility when 20 million people just died in a global blackout. V, conversely, wraps its individual mysteries inside the broader storyline. As Battlestar Galactica - and even the Twilight Saga - have proven, audiences love to play the guessing game of which human beings are actually other life forms living among us; and then, which of those can be trusted.
Lines We Can Understand: Kudos to the show for quickly establishing that the Visitors are up to no good. It would have been silly to drag out the possibility that these aliens have our best interests in mind. After one hour of the series, we have the good guys (Erica, Father Landry, Ryan) versus the bad guys (Anna and company), with characters such as Chad caught in between.
Were you as big a fan of this series premiere as we were? There are only three remaining episodes of V this fall, until ABC shelves the show until March. Enjoy it while you can!
Below, we've listed a few memorable V quotes from the pilot:
Jack: The world's in bad shape. Who wouldn't welcome a savior right now? | permalink
Jack: No one is saying don't trust the Visitors. But don't they need to earn our trust? | permalink
Anna: We are honored by your friendship. We will nurture, cherish it and never abandon it. | permalink
Chad: Is there such a thing as an ugly Visitor? | permalink
Matt Richenthal is the Editor in Chief of TV Fanatic. Follow him on Twitter and on Google+.