Vampire Diaries Review: Crazy Creatures, Hot Sex and More!
Matt Richenthal at .
A new vampire in town. A likely werewolf revealed. And red hot sex between two main characters.
No wonder this episode was titled "The Turning Point," as The CW drama gave viewers plenty to think about until its return on January 14.
As you mourn the loss of entertaining Thursday nights over the next two months, let's go over the reasons why this was yet another outstanding installment of the best new show on television...
Brothers, united! When the show kicked off, there seemed to be nowhere to go with the Damon/Stefan relationship. The former sucked (literally!), while the latter wanted nothing to do with his brother. But we've seen a (somewhat) softer side to Damon over the last couple weeks; and tonight we got to see the Salvatores team up and battle a common enemy.
They may never truly be on the same side, but a good show finds interesting ways to develop characters and keep their interactions fresh. The Vampire Diaries is a good show.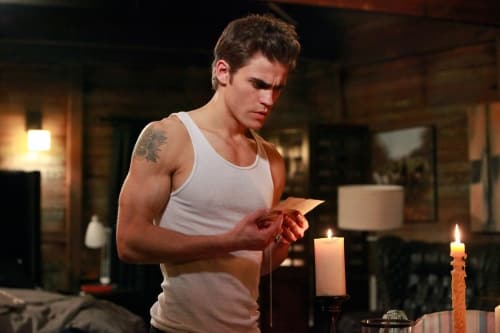 Damon, thwarted again! Any Lost fan will find it ironic that Ian Somerhalder's character is once again obsessed with a mysterious apparatus in the ground. On Lost, season one ended with the opening of a hatch. On this series, Katherine's tomb has provided Damon with a purpose, one that might not be at the forefront of every episode, but the more he's denied entrance to it, the more the suspense builds and the more exciting it becomes when that tomb is unearthed.
Stefan's abs: Holy six pack! Stefan doesn't even need fangs. He carries lethal weapons around on his stomach everyday. How did Elena wait this long to jump his (ancient) bones?!?
Full moon, Tyler rising: Looks like we know the answer to a question we asked earlier this month. Does Tyler really not know what he is? Does his father have an idea, and is that the reason he urged Tyler to fight Jeremy, to bring out the creature that lurks inside his offspring for some reason?
We haven't even touched on Alaric as a vampire slayer (cool character, but can Matt Davis pull of the necessary intensity during certain scenes?); Or, of course, who/what the heck Elena ran into on the road. Any theories on this individual?
For now, we'll leave you with a few of our favorite quotes from The Vampire Diaries cast this week...
Elena: If you walk away, it's for you. Because I know what I want. Stefan, I love you. | permalink
Mayor Stratton: Do I look like a student?
Alaric: You look like a full-grown, alpha male douchebag. | permalink
Logan: I was one of you.
Sheriff Forbes: Now you're one of them. | permalink
Logan: I'm inflicted.
Damon: Welcome to the club. | permalink
Matt Richenthal is the Editor in Chief of TV Fanatic. Follow him on Twitter and on Google+.