After weeks of hype, the 2009 finale of Desperate Housewives left viewers with more questions than answers.
Yes, a plane crashed into Wisteria Lane, leaving a couple characters dead. But while we take a moment to mourn Nurse Mona, we're left to wonder about the identity of the other deceased individual.
Is it Orson or Karl? While the bloody hand sticking out of Santa's Workshop looks ladylike, no fan in his his/her right mind thinks Bree is actually a goner.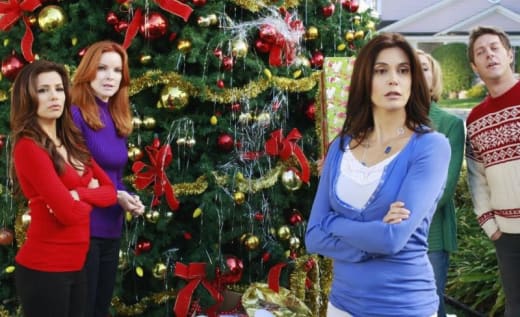 So, who will be resting in peace when the series returns in January? We have the answer below, as well as a look at various future fantasies, courtesy of a unique episode.
Be warned: major Desperate Housewives spoilers ahead...
- On the show's flash forward episode, Bree is alive and dreaming of a life without Orson. However, this is merely a dream: Orson is alive, but possibly paralyzed -
while Karl is dead.
- Lynette's imagined future includes a new son, Patrick, who has cerebral palsy.
- Gabrielle also sees a vision of her children: Juanita is 20 years old and a lesbian; while Gabrielle is attempting to turn Celia into an actress.
- Susan is really fat.
- In real life, we'll learn a lot about Angie's past. In her dream sequence, a judge sentences her to life behind bars.
Despite these spoilers, there are still many issues left unanswered: Before she died, did Mona tell anyone about the Bolen family secrets she knows?
Will Lynette's saving of Celia be enough to patch things up between her and Gabrielle?
Desperate Housewives fans will need to wait until 2010 to find out.
Matt Richenthal is the Editor in Chief of TV Fanatic. Follow him on Twitter and on Google+.