Following the most shocking season finale in series history, Dexter has left fans wondering:
Will Dexter be a suspect in Rita's death?
Will his connection to Trinity be discovered?
What happens to Cody and Astor?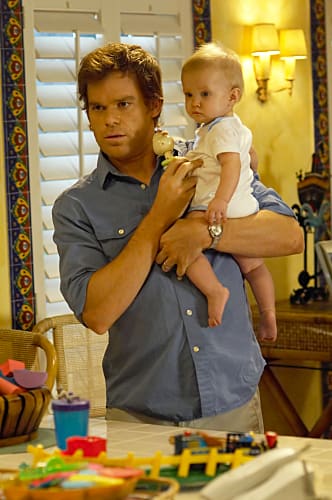 Producer Sara Colleton spoke with TV Guide this week and tried to answer a few pressing questions, including whether or not season five will pick up immediately following Rita's gruesome murder...
On why Arthur killed Rita: We left it that way so everyone, based on their own life and their own experiences, would interpret it so it made sense for them. One way to interpret it is that in some bizarre way, Dexter gave Trinity a finality in his situation, that he does this in a bizarre way to trigger Dexter to deal with who he really is. You can only fake it for so long.
On Dexter's relationship with Trinity: Dexter can't say that he knows Trinity killed Rita and that he just killed Trinity. There are a lot of possibilities and they will all be thrown out in the room to be discussed.
On Dexter's season five reaction: [He may go on a killing spree], he may not. Hopefully it will be in what we call the "Dexterous response," which is based in human behavior, but uniquely put through the prism of Dexter's special needs. The fact is that he has children now that he is the sole parent of, and how that affects what he does and the choices he makes.
On Dexter as a suspect: If you know anything about crimes, usually a spouse is involved. We may jump ahead six months and it could be all handled. What we wanted to do is give ourselves something that gave us the widest range of possibilities.
Matt Richenthal is the Editor in Chief of TV Fanatic. Follow him on Twitter and on Google+.