During last night's season five finale of It's Always Sunny in Philadelphia, the gang was finally allowed back into Flipadelphia, a city-wide flip clup tournament after a ten year ban for poisoning their old rivals, Molly's.
So what do you expect the gang to do the second their ban is lifted?  Well of course, "The Gang Reignites the Rivalry."  They head over to Molly's, now an upscale restaurant and generally terrorize the place, and later Dennis and Frank destroy his house as well.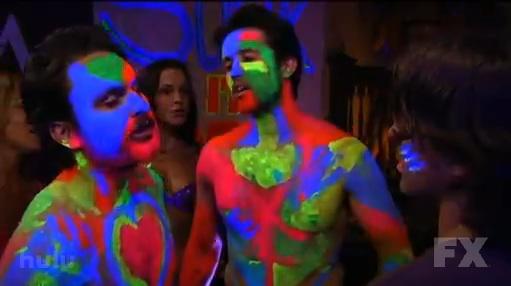 However, this time, even with a rival who could care less about the competition, the gang isn't going to let Sweet Dee drag them down.  They head to Dennis' old fraternity to recruit a new fourth member, and suddenly a new, even more hilarious rivalry is born.
The gang ends up forgetting about Filadelphia and spending their time at war with the fraternity, only to have the owner of Molly's show up at the end of the episode infuriating.  Hilarious episode and we're not sure how we're going to have to wait for season six.
Now for some of our favorite It's Always Sunny in Philadelphia quotes from the finale:
Mac: He doesn't have any poison.
Charlie: I don't have any on me, but I do keep some in my fridge at home in the relish jar.
Frank: There's poison in that jar? I thought I was allergic to pickles. What's in the jar with the skull and crossbones?
Charlie: Well that's mayonnaise. It's a decoy.
Frank: And the mayo?
Charlie: That's shampoo.
Frank: You're telling I've been putting shampoo on my sandwiches?
Charlie: If you've been using the mayonnaise, then yeah, probably. | permalink
Charlie: I'll totally pull a Good Will Hunting on those kids and that'll put them in their place.
Mac: How you gonna do that?
Charlie: Well, you've seen the movie right?
Mac: Yeah.
Charlie: So all I gotta do is, I'll ask them some big shot, like math or science, history-type college question aand that will totally stump them by knowing a lot more about the answer than they do.
Mac: In that movie, Matt Damon played a genius janitor, you're just a janitor.
Charlie: Right, you stumped me with that one. | permalink
Charlie: What's going on is that you just drank a cup of poison. | permalink
Eric Hochberger is the programmer of TV Fanatic, so please forgive his mediocre writing. His programming is far better. Follow him on Twitter and/or email him. Just don't request threaded comments. They're coming.