In the days following the Dexter season four finale, we've heard from show producers and show stars such as John Lithgow and Michael C. Hall.
Everyone had a lot to say about Rita's shocking death, but fans have been waiting all week to hear from Julie Benz herself. How did she react when told of her character's demise? Will Rita turn into a ghost?
E! News asked these questions, and many more, of the actress. Her candid replies are below...
On any kind of return: "There has been no talk of me coming back to the series in any way. A lot of people have been begging me to tell them that I'm going to come back, and I'm like, 'Rita's dead!' Rita is dead and Trinity killed her... I don't think it could get any more obvious that Trinity killed Rita. Rita is dead."
On reaction to her death scene: "The death was such a graphic image... When they first told me I was dying, they didn't tell me how I was dying... I did feel anger about them taking this innocent, sweet woman in such a violent and terrifying way - which we know from the woman in the bathtub in the first episode.
"We know we're making a TV show, but you see a little baby and fake blood, and it was still a very disturbing image. But it's a poetic way to go because it's a direct reflection of Dexter as a child and there's poetry in that if you can get past that, which I think is what they were going for."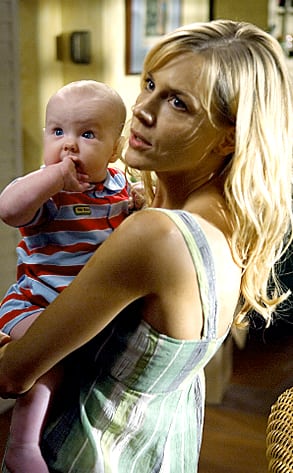 On joining another show: "I love FlashForward, Grey's Anatomy, Mad Man, 30 Rock. I'd love to be a part of a show where they don't think it's cool to kill me!"
On what's ahead on Dexter: "I assume Astor and Cody will go with their grandparents, but what about Harrison? I know that one option is to have them jump ahead in time. They have the option of taking the story creatively wherever they want.
"But of course I worry about Harrison. The first thing I said when they told me about Rita's death was, 'What about the children?!' I felt like a real mother, and I will be tuning in to make sure that Harrison is taken care of."
So will we. We also wish Benz the best of luck in her next career step. She should have no trouble finding work, that's for sure.
Matt Richenthal is the Editor in Chief of TV Fanatic. Follow him on Twitter and on Google+.