This week's holiday centric episode of Modern Family, "Undeck the Halls," was the much hyped episode (by us) where Fred Willard made his guest appearance.  So how did the comedic legend do?
Well, we'd love to tell you, but somehow the man was only in it for twenty seconds before the opening credits in a cameo at best.  Fred Willard is comedic genius and could have added a lot to the already amazing Modern Family cast, but was for some odd reason underused.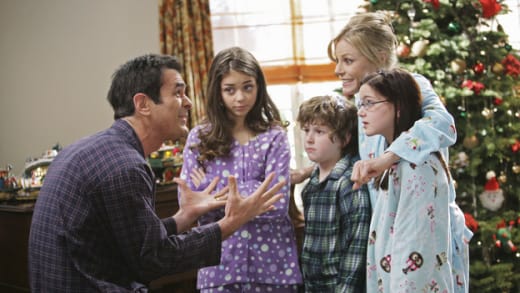 How did Edward Norton get so much terrible screen time, when this perfect fit got nothing.  Well, we're holding out hope for more of Phil's father in the future, and didn't let it ruin the whole episode for us.
The episode might not have been as funny as previous installments, but it certainly had some very sweet heart, especially when it came to Jay's storyline.  Jay initially fought Gloria and Manny's attempt to infuse Colombian traditions with hilarious results, and eventually warmed up and embraced them.  It was perfectly done.
Meanwhile, we thought Mitchell and Cameron's storyline with the homeless Santa Scott (Brian Finney) was also phenomenal, especially when he laid out the choir guy.  Phil and Claire's story could have been better if were not for the terrible acting by Luke.  Don't worry, Phil still had us dying and Claire had us swooning.
Of course, even an average episode Modern Family was still loaded with laughs and plenty of quotes.  Here's some of our quotes from the episode:
Mitchell: Still keeping traditions alive, huh?
Jay: Someone has to. I got two Colombians as home trying to turn Christmas into Cinco de Mayo.
Mitchell: You know that's Mexican right?
Jay: Ahh. Burrito, burr-righto. | permalink
Gloria: Every culture has their own traditions. For example, in our culture, the Baby Jesus is the one that brings the presents, not the Santa Claus.
Jay: That's doesn't make sense. How could a new born baby carry all those presents? They don't even know where their hands are.
Manny: At least a baby could fit through a chimney.
Jay: How could you sit on the Baby Jesus' lap? You'd squish him. | permalink
Phil: I guess the couch did it to itself. I guess it came home after a tough day, lit up a cigarette and burned itself. Is that what happened? Because that makes no sense. | permalink
Cameron: It's Christmas eve, you can't spend it in your car.
Santa Scott: That's really nice of you guys. Can I bring anything? Ketchup, soy sauce, straws?
Cameron: We're good.
Mitchell: So why don't you follow us to our house?
Cameron: In your house. | permalink
Eric Hochberger is the programmer of TV Fanatic, so please forgive his mediocre writing. His programming is far better. Follow him on Twitter and/or email him. Just don't request threaded comments. They're coming.