This episode of The Good Wife was a great showcase for the entire cast.
What began as a seemingly simple case for Alicia led to the discovery that a judge, and long-time friend of Will's, was as corrupt as they come. This storyline was set against an offer made to Diane to leave the firm and become a judge.
Read our recap of "Lifeguard" to fully understand how every character at the firm intersected on this case.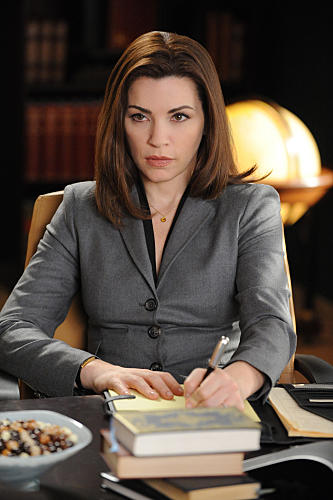 The installment highlighted every positive aspect of The Good Wife, most notably its solid cast, straightforward storytelling and mature point of view. There are no special effects here, no dumbing down of plots for the audience, no need for surprise endings.
There are simply solid stories and slow character build-up. There are also realistic relationships. Will and Diane, for instance, are clearly not good friends. But there's a healthy amount of respect there and the ability to disagree like adults.
Same for Cary. It would have been easy for the show to make him a sterotypical foil for Alicia, aiming to bring her down at every opportunity. But he's turned into a well-rounded character that was actually the voice of reason this week.
"Lifeguard" also made great use of its guest stars. None stole the spotlight and each fit right in to the storyline, as if they were a regular part of the cast. The impressive line-up included:
Michael Gladis (Mad Men)
Michael Boatman (Spin City)
Kate Burton (Grey's Anatomy)
Tony Goldwyn (Ghost)
What did you think of the episode?
Matt Richenthal is the Editor in Chief of TV Fanatic. Follow him on Twitter and on Google+.