The following review takes place between 7:33 and 7:53 a.m. Words are written in real time...
Having Jack Bauer back in our lives is like a warm glass of milk; a troubled, heroic, will-kill-you-with-an-axe warm glass of milk.
Sure, 24 has fallen off a bit in recent years, as there are only so many government moles, world domination plots and intense interrogation sessions to go around. Still, any long-time fan of the drama has to smile and subtly pump his/her fist at the countdown, the multiple on-screen boxes and all the familiar reminders that one of the best produced shows is back on TV.
This time, Jack is living in NYC, seemingly out of the CTU game. But it doesn't take long for him to get pulled back in, despite a promise to move to Los Angeles with Kim, little Terri and Paul Wesley (taking time away from battling with Damon on The Vampire Diaries to serve as the universe's most understanding husband).
What stood out in the first hour of the premiere?
A believable plot: There are many directions left to turn, but the basic set-up is nice and simple: there's an assassination plot against the leader of an Islamic nation that wants to sign a peace treaty with the U.S. Shades of the season one storyline that focused on an attempt to kill Presidential candidate David Palmer, kudos to 24 for simplicity so far.
Solid casting: We actually buy Freddie Prince Jr. as Cole Ortiz; everyone loves Katee Sackhoff; Mykelti Williamson has us believing he was an incompetent, controlling head of CTU instead of Forrest Gump's BFF; and Anil Kapoor is perfect in the role of President Hassan.
A lack of distracting, annoying B plots: This might change soon.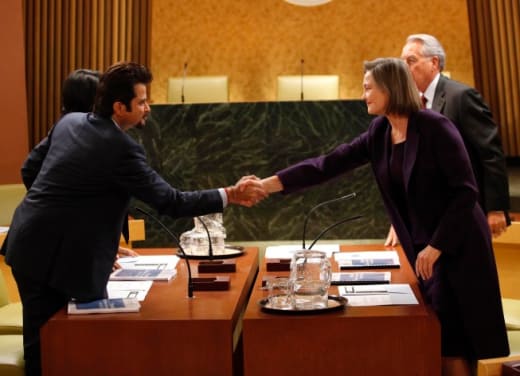 Thoughts on the second hour follow:
So much for the lack of a B plot. Dana Walsh used to be... Jenny Scott! At least Kim isn't stuck in an animal trap again.
If anyone out there was surprised to learn that Hassan's brother was the traitor, as opposed to Meredith Reed, you'll also be shocked to learn eventually that Jack prefers when interrogation subjects give him the answers NOW!
Thank you, writers, for not having Jack go rogue (like Sarah Palin!) again. Was it a stretch for Hastings to just give him a gun and permission to follow up on his own lead? Sure. But it was preferable to an angle that would have had CTU chasing Jack again.
Overall, an enjoyable two hours. 24 may have forever lost its initial suspense and creativity from the first couple seasons, but it's still a unique, well-produced, well-acted show. There's something both comforting and exciting in having Jack back, off to find bad guys, with Chloe running ops from CTU. Some things never change... to the chagrin of terrorists around the world!
We leave you with a few questions from the two-hour premiere: Was was Renee? How will she get brought back? Is Ethan tapping the newly-single President? Can we trust this Chief of Staff? Who will get killed first: Arlo the programmer or Hassan's daughter?
And, most urgently: do you think Kiefer Sutherland records new voiceovers each season when he tells us what times the following events occur at?
Matt Richenthal is the Editor in Chief of TV Fanatic. Follow him on Twitter and on Google+.