An American Idol winner is coming to Bones.
While he wouldn't confirm the date on which she'll appear, nor the role she'll play, series creator Hart Hanson is on record: Jordin Sparks will guest star on an episode this season.
In an interview with Zap2It, however, Hanson spoke in more detail about three other actors scheduled to stop by the series before season five is over. They'll be...
Patricia Belcher: Will reprise her role as Caroline on the 100th episode. "She's a federal prosecutor, so we just pretend that six years ago she was the federal prosecutor in DC [and we see her doing that]," Hanson said of the flashback installment to come.
Cyndi Lauper: Said Hanson of her turn as a psychic: "We had her scheduled for the [101st] episode, [but] she's unable to do that so we're yanking that storyline out and the next time she's available, we'll put in her b-story. She's awesome."
Josh Malina: Will appear on the February 4 episode, which finds Brennan and Booth entering a mental asylum. Will play the head of the "loony bin," as Hanson says, adding: "We don't often have guest stars who can be seen throughout the whole episode... but [Malina] plays pretty smart and he plays pretty appealing. And he's a good suspect."
Which of these guest stars are you most excited about?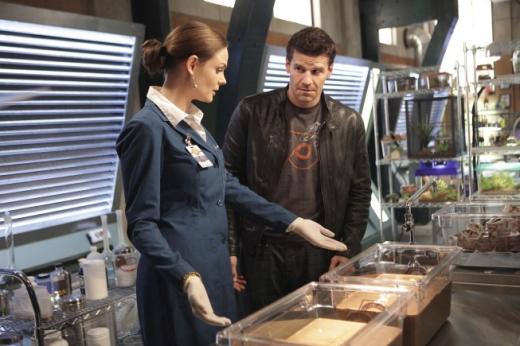 ** UPDATE: Rats. Hanson has Tweeted that Sparks will NOT appear on the show after all.
Matt Richenthal is the Editor in Chief of TV Fanatic. Follow him on Twitter and on Google+.