Last night NBC aired its first new Chuck in its regular time slot on Mondays, giving us three hours of Chuck in just two short days.  So was it too much?  Luckily there's no such thing for a man who did a marathon of season one that same weekend.
The episode, "Chuck Versus Angel De La Muerte," finally took advantage of Captain Awesome knowing that Chuck is a spy in a clever way when their two worlds collided.  A visiting prime minister, Allejandro Goya (Armand Assante), fell ill and required Awesome to be his doctor, while Chuck and team had to protect him from further assassination attempts.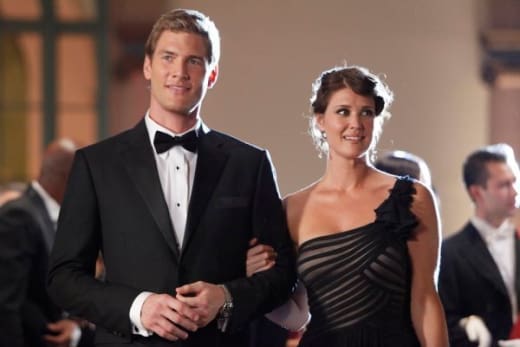 We love Awesome and seeing a dynamic to the character besides simply being the manliest of men was nice.  Seeing Devon actually fail, admit jealousy and admiration towards Chuck was actually nice.  Maybe someone as nearly perfect as Devon could exist then.  "Is there anything your brother-in-law can't do?"  We're definitely hoping for more Devon / Chuck missions.
The episode also toned down Chuck's action sequences, using the Intersect 2.0 mostly for dancing and cramming a 4 year medical degree into a few seconds.  The action was mostly handled by the commie-hating, Angel De La Muerte of the title, Casey.
Casey may have shown hesitation and some signs of fear, well as close to fear as Casey can feel, but when Devon screwed things up, our boy was in their to clean the mess.  The torture scene and some of line given by Casey were the best in this character's history.
Luckily, the Chuck-Sarah annoying tension has been dialed down a bit.  Sure, Ellie (who looked hot!) had a little heart-to-heart with Sarah (who looked silly hot in her stripper version of a nurse outfit) and Chuck and Sarah decided to be friends, but none of it got to the point of annoying like last night's.
Overall, the episode was phenomenal.  We're sad the amazing cliffhanger at the end was spoiled by a preview shown a split second after the episode ended.  The ending definitely had me screaming, only to be relieved a second later.  Weak, NBC.
Our favorite Chuck quotes from the hour are after the jump.
Awesome: You and what army?
Chuck: Uh, that would be Sarah and her fists. | permalink
Sarah: What do friends normally do?
Chuck: Well, let's see, it's Friday night. Normally Morgan and I would gorge ourselves on processed foods and play video games all night.
Sarah: Well maybe we're not quite there yet. | permalink
Awesome: Chuck, you could have been a surgeon with those hands.
Ellie: He could have been a lot of things, I'd settle for on time. | permalink
Casey: His blood is type AB negative. What? You learn a lot about a guy when you're trying to kill him. His favorite movie is Terms of Endearment. He always showers after love making. | permalink
Eric Hochberger is the programmer of TV Fanatic, so please forgive his mediocre writing. His programming is far better. Follow him on Twitter and/or email him. Just don't request threaded comments. They're coming.