What an explosive episode!  This week on Embassy Row, Chance barely escapes with his life.  We thought he almost wouldn't make it, but of course there couldn't be a show without our main man.
Chance hardly survives being poisoned by a man named Raven who is trying to sell the Russian's a weapons prototype.  He also meets a beautiful woman that seems to have captured his heart… all while helping him seize the "bad guy"! 
This is a pretty intense storyline, especially pertaining to the world we live in today.  Chance is literally willing to risk it all for the greater good, kind of like our men and woman serving in Iraq and Afghanistan today.  We commend those brave souls who risk their lives everyday for our own liberty!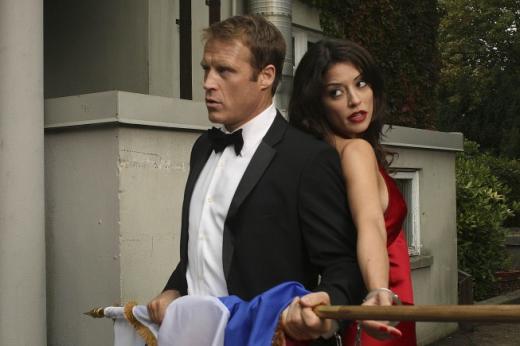 We loved the onscreen chemistry between Christopher Chance and Emma Brown!  These two would be able to light a fire with their passion.  Men love watching action and adventure, and women love to see a good onscreen romance.  May we even dare to say one "between the sheets"!  Very HOT!
Christopher Chance would never make the mistake of leaving his fingerprint behind.  Did you see the way Chance smiled when being questioned by Winston? We realize Chance must want to be found by Ms. Brown.  One can only hope of seeing more of the exquisite Emma in the future.
One negative element of this show seems to be the over the top "cheesy" acting between its characters.  The dialog seems to be "over acted" or even "over rehearsed." We hope the script becomes more authentic and believable as the show continues.
Overall, we are thoroughly entertained by Human Target and look forward to next week's episode!  Christopher Chance, go after your lovely lady! 
We leave you with a few of our favorite Human Target quotes from this week:
Emma: Are you out of your mind? You just compromised my cover and my entire project, and for what, to save your own butt?
Chance: Well, I'm kind of attached to it. | permalink
Emma: How am I going to get in touch with you? You can't just disappear!
Chance: I'm going to have to owe you one. | permalink
Chance: Do you think I would risk everything for a woman? What am I fourteen? | permalink