While Chazz Palminteri got all the attention for guest-starring on this week's episode of Modern Family, comedian and occasional Daily Show correspondent Kristen Schaal was actually given more to do.
Her cuteness - and eventual, misguided crush on Cameron - saved an otherwise sub-par plot between her character, Manny and Glorida on "Fifteen Percent."
We adore Manny. But his mature quirkiness works better in snippets and sporadic one-liners. An entire storyline dedicated to his unique take on life as an 11-year old fell a bit flat, as it relied too much on that singular personality trait. That said, it was great to watch an outsider witness it and, as Schaal's Whitney admitted, get a little freaked out by him.
Over at the Dunphy household, we enjoyed a role reversal. Phil actually came across as the grounded, reliable spouse for a change (which is not to say he didn't have his Phil-like moments: the song about the thermostat was one of our favorite Modern Family scenes ever).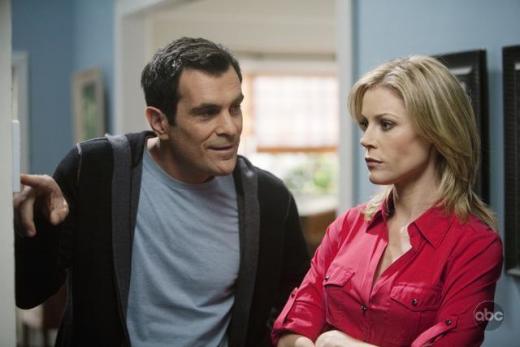 Claire's frustration over the universal remote was a feeling that could be felt, well, universally. Who hasn't engaged in a battle with technology? If only everyone had a dense daughter, inspired by taking revenge out on us over years of disagreements, to eventually teach us the ropes.
(Because this is a family site, we'll do our best not to mention the scene that focused on Julie Bowen in black lingerie. Really. We're not gonna refer to that at all.)
That brings us to Palminteri. Modern Family has either hit one out of the park with its guest stars (Elizabeth Banks) or swung and missed badly (Edward Norton). The use of this veteran actor, unfortunately, teetered dangerously close to a strike-out.
Palminteri was perfectly fine as Shorty, Jay's manly friend that Mitchell suspected was gay. But the show seemed to rely more on Palminteri's resume than his actual acting chops. This is a man that's starred in The Usual Suspects and A Bronx Tale, among other tough guy films.
He goes against every gay stereotype, which is why Jay was so taken aback by the accusation. However, aside from sticking someone in that role about whom viewers would also laugh off a homosexual accusation, the show didn't give Palminteri much of a platform.
Still, Jay and Mitchell were featured in a pair of nice moments:
Jay reflected on how poorly he handled his son coming out of the closet (this show really does possess more heart than the average sitcom, doesn't it?).
Mitchell uttered one of our favorite Modern Family quotes of all-time, upon seeing Cameron holding a bouquet of burning flowers: "Look at that: two things flaming at once."
What did you think of the episode? What were your favorite lines?
Matt Richenthal is the Editor in Chief of TV Fanatic. Follow him on Twitter and on Google+.