Tuesday's episode of NCIS: Los Angeles featured Callen at his undercover best and provided interesting back story on Sam - a story with a bittersweet ending for Agent Hanna.
Last night's plot unfolded at the perfect pace with twists we didn't see coming, and like the original, we're often struck by how we forget we're watching actors. Terrific stuff.
What began as a nightclub killing led to a full-on NCIS investigation of a terrorist. Follow this link for our basic episode recap, then check out our review of "Breach" below ...
A Petty Officer is killed in a strip club after a young black man drives his truck into the club, narrowly missing a stripper Katya who NCIS believes may be the real target.
Callen, of course, works all of the usual angles, certain that Katya is hiding something. But he learns she's just one of many pawns in what's become a complex chess game.
Sam ID's markings on the driver as that of a Sudanese refugee, and turns to a teen named Moe for help. Sam sponsored Moe, a refugee himself, to come here years ago.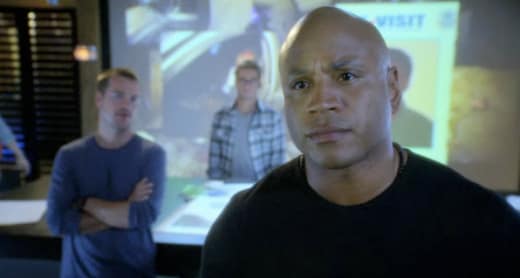 Sam suspects Safar is targeting "The Lost Boys" of the Sudan.
Moe leads Sam to Safar, a man who was with the driver at the club - and who the team believes is a Libyan terrorist trying to recruit impressionable young men in the U.S.
Knowing Safar was a regular at the strip club, Callen goes undercover - with Kayla's help - to secure footage of him there. Callen does his thing and somehow escapes.
Chris O'Donnell is as cagey as it gets as the seemingly low-key agent who blends into any situation. It's great watching him in such a different role than we're used to.
Using the recordings as blackmail, Callen sets up and captures Safar on a pier, but Sam is devastated when Safar smugly mentions that he got what he was after: Moe.
He's turned Moe against Sam by telling him about his father - and that Sam was ultimately responsible for leaving him an orphan. Which is true, in the line of duty.
Sam tries to explain that he brought Moe to the U.S. to make up for what happened in the Sudan, but it's too late. He leaves to join Safar's terrorist training group.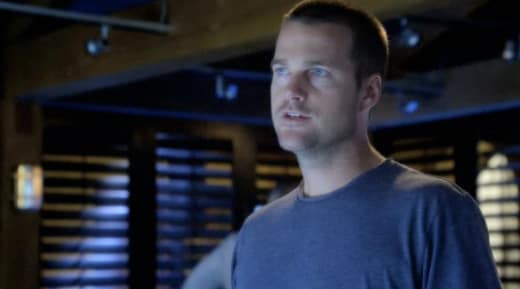 Callen is chastised by Hetty for working too much. And Hetty is always right.
LL Cool J once again showcased his surprising acting chops in this episode as he tried, and ultimately failed, to mentor the troubled teen. You could see how it broke his heart.
Meanwhile, Hetty (the hilarious Linda Hunt) is ball-busting like crazy, telling her agents to watch their costs, but more importantly to take more time away from their jobs.
One of our favorite scenes came at the end when she confessed to Callen that she worries he is far too busy to build a life. She's a ball-buster, but she's compassionate!
They agree to go on a "date" to the museum. Awesome.
Steve Marsi is the Managing Editor of TV Fanatic. Follow him on Google+ or email him here.