It looks like there's a slight, small chance that ABC might gives the news Scrubs a second shot at life.  Originally, the network planned to air all remaining episodes in January by doubling them up each week.
Starting last night with "Our Stuff Gets Real," the network has decided to air one rerun alongside a new episode.  We're just holding out hope that ABC gives the show a serious shot by airing it on Wednesday nights alongside the rest of its comedies next season.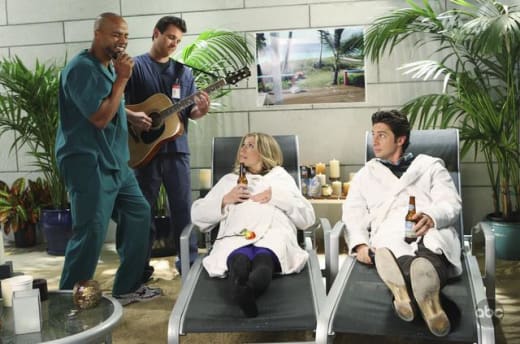 The new Scrubs continues to improve as it finds its groove, and last night, which was Zach Braff's sixth and final appearance, was still good, despite Braff's appearance.  The show clearly must have received word of their criticisms of having dual narrators, as J.D. was about to go into a fantasy, Elliot stepped in and threatened to punch him.
Stepping back from the narrator role, J.D. was perfect last night.  Between his attempts to sleep with a very pregnant Elliot to his usual antics with Turk, he never dominated the show. We're still ready to say goodbye to the character, but at least he didn't ruin the episode.
Lucy, as narrator, was given the main storyline as she tried to cut up the cadaver of a patient she knew with Turk's help.  Always nice to see Turk taking a bigger, more serious role in the show.
Meanwhile, Bill Lawrence apparently gave his wife permission to leave the Cougar Town set as Jordan made her first appearance on season nine.  She even made a reference to her sister, Danny (Tara Reid).  It was a fun throwback, without taking too much away from the rest of the cast.
Drew and Denise, our two favorite new characters, were unfortunately just supporting characters due to the fact Cox and J.D. were each give the other two storylines.  We're still looking forward to the day when the torch is completely handed over and we hope ABC will give Scrubs a chance to do so.
Anyways, enough of our rambling.  Now it's time for some Scrubs quotes from the episode:
Jordan: You know that bag of bones my sister Danny married? He died, she got nothing.
Cox: Bert died?
Jodran: You're not listening. Danny got nothing. You need to do your will so I can get all your stuff. | permalink
J.D.: All the baby books say we'll be back to our normal sex life in about six weeks.
Turk: Those baby books are filled with lies. You don't know, it's crazy. You're gonna be changing diapers covered in spit up. You're not gonna have sex for a long, long, long time.
J.D.: No hide the penny?
Turk: No.
no me girl, you boy
Turk: No.
J.D.: No dirty Zulu warrior?
Turk: No, and that one's racist.
J.D.: There'll still be cuddling, right? Please tell me there'll be cuddling. I'm a man, I have needs.
Turk: She'll have a baby to cuddle with.
Turk: That bastard. | permalink
Cox: I mean around here, you just can't let your work and personal life overlap.
Denise: Yeah, that was always Ally McBeal's problem too. It's so hard being a working woman in the 90s. | permalink
J.D.: Denise brought some non-alcholic beer.
Denise: Yeah, I got it for this dude I'm railing, he used to be an alky.
Drew: Not an appropriate time to bring all that up, but there it is.
Cole: And I brought some sensual body chocolate. What's the situation with the big old D's? Got any milk yet? | permalink
Eric Hochberger is the programmer of TV Fanatic, so please forgive his mediocre writing. His programming is far better. Follow him on Twitter and/or email him. Just don't request threaded comments. They're coming.