The last new episode of Grey's Anatomy was an all-inclusive holiday bonanza. Next month, the show will get into a festive mood once again in its first-ever Valentine's Day episode.
The big plans? Derek and Owen have a double date in mind. Cute, right?
It might be, except that "Meredith is not a Valentine's Day girl, and neither is Cristina," creator Shonda Rhimes tells TV Guide, "so the guys will try to force them to enjoy the holiday."
Celebrating Valentine's Day more willingly? Callie and Arizona!
The two "go out on a date and exchange gifts at four o'clock because they know they'll be in the ER in the evening," then play cupid for Bailey and anesthesiologist Ben Warren.
The new character, played by hunky actor Jason George, will (according to Shonda) give our workaholic Nazi "a little bit of lovin'" and we can't wait to see how that plays out!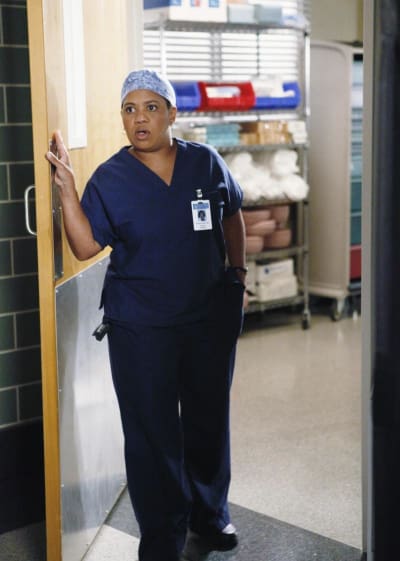 Looks like romance is on the not-too-distant horizon for Bailey!
What about for intriguing newcomer Dr. Jackson Avery (Jesse Williams)?
"I think he's adorable, but he's not ready for that," says Rhimes. "There's a sense of the audience not knowing where he's going to land, and I'd like to keep it that way awhile."
Turning our attention to Izzie-less Alex, Rhimes hints that he'll "find his own way to amuse himself quite adequately." NOTE: By amuse himself, she means with another person.
Speaking of Izzie, what's the deal with all the coming and going? Is Katherine Heigl's schedule and her character's future something anyone is even clear on at this stage?
"As writers, we've had to be creative with having Katie for such a limited time," Shonda said of Heigl. "Maternity leave is maternity leave, and it's a choice I fully support."
Rhimes adds that she doesn't know when Heigl will be back full time. As you probably know, Alex hooks up with someone this week - at least the new promo suggests it!
Steve Marsi is the Managing Editor of TV Fanatic. Follow him on Google+ or email him here.