The Bachelor season premiere just aired Monday night, but already, rumors are circulating as to who receives the final rose from hunky Dallas airline pilot Jake Pavelka.
We've received some serious intel on the subject, as well as the cheating scandal that allegedly happens this season, and we are inclined to believe most or all of it.
The level of detail, as well as the source reporting the inside information lends these shocking spoilers far more credibility than your standard message board banter.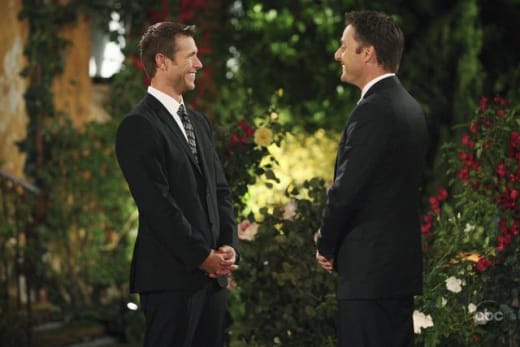 What do Jake Pavelka and Chris Harrison have up their sleeves?
This is, admittedly, all unconfirmed at this stage of the game.
But whether or not it's true, you can't ever fully believe what you see on the show, or discount what you read online. Click here for The Bachelor spoilers, unabridged.
Then follow the jump to see who's involved in the season's big scandal, and who'll be left standing when Jake Pavelka picks his bride-to-be in the coming weeks:

Rozlyn Papa, a 28-year-old single mom, is the woman allegedly involved with a crew member, who was outed after he admitted he had feelings for Rozlyn.
This was considered "inappropriate behavior" and it gets Rozlyn kicked off the show. Whether they actually had inappropriate relations is highly suspect.
The rumor going around is that Rozlyn had a breakdown over not being able to be with her son at home, which the producers made her keep from Jake.
In any case, the final four rose recipients are Tenley, Gia, Ali, and Vienna.
Ali and then Gia are eliminated in that order, after the hometown dates and the romantic overnight dates, leaving Tenley and Vienna as Jake's final twosome.
Vienna Girardi takes home the final rose, according to these spoilers. It's a bit of a shocker in a sense as she would not be considered a favorite right now.
What do you think? Do you believe The Bachelor spoilers you've read here? Do you want to believe them? Chime in with your thoughts and views below!
Steve Marsi is the Managing Editor of TV Fanatic. Follow him on Google+ or email him here.