After one episode, The Deep End is everything we thought it would be:
A cliche-laden, light-hearted drama that seeks to prove that young, pretty, intelligent lawyers can be every bit as driven, sex-crazed and confused about life as the young, pretty, intelligent doctors on the show that proceeds it.
Did the series premiere do a solid job of introducing these characters? Yes. Do many seem like boring archetypes? Yes. But does the show have potential to be a hit? We think so. We review its pluses and minuses below...
PLUS: Billy Zane as Cliff Hurdle. Looks like this actor can be as much of a jerk inside a law firm as he can be on a sinking ship (Titantic shout-out!). Was responsible for the most enjoyable one-liners from the episode (example: "Now leave before I set you on fire.") and is more than just a cookie-cutter villain. It's hard to argue with his agenda if it's been getting results for the company.
MINUS: Characters as stereotypical caricatures. We've got the wide-eyed, innocent associate (Dylan); the ladies man (Liam); the quiet hard-worker (Addy); and the ice queen of a wannabe daddy's girl (Beth). We're only an episode in, of course, but the show could have at least avoided such cliche-laden lines as Beth's opening speech about how low on the totem pole the associates rank, as well as the actual reference to "the deep end" when Dylan got pushed into the pool.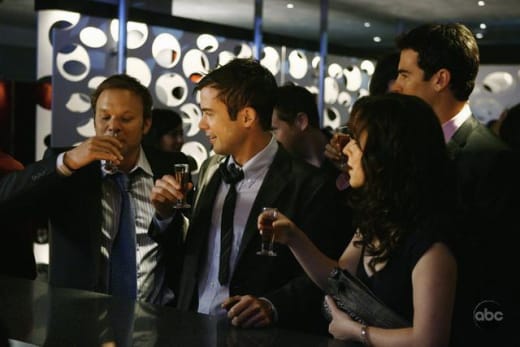 The two most glaring examples of broadly-written characters are Liam and Beth's father. Australian accents are cool, but the episode made it a bit too easy for Liam to bed anyone he wanted to. It also painted Beth's dad as the archetype of an insensitive, detached father. We didn't need to be hit so hard over the head with his relationship to Beth. Use more layers for your characters, The Deep End, and take more time drawing each one out.
PLUS: The legal world. It might seem like there are a million law shows on TV, but can you name any aside from The Good Wife and Law & Order? This genre has actually gone untapped for awhile and there's always potential for interesting storylines/cases within it.
MINUS: Don't be Ally McBeal. The twist in Dylan's case - that the grandmother had acted as the surrogate for the mother - was a bit much. Grey's Anatomy already does goofy medical cases. We're prefer for this show to stick to regular legal issues.
Overall, we give the series premiere a B. Ideally, it would have taken more time introducing each character, focusing on one at the outset and slowly bringing the others into focus over the first few weeks.
Instead, its ambition resulted in revealing only the most basic information about numerous individuals... which result in each one feeling like nothing but a stereotype. But there's plenty of time to fix that and we'll have our TVs tuned to ABC next week to see if it does.
Will you? What did you think of the episode? We leave you with a few The Deep End quotes from it:
Dylan: Are we supposed to love this job or hate it?
Addy: Both. | permalink
Hart: It's what we do in the worst of times that tells the world who we really are. | permalink
Dylan: I have to go make a six-year old choose between his mother and his grandmother. | permalink
Liam: I may screw anything that moves, but I don't lie. Which is why I'm forced to say: that skirt makes you look fat. | permalink
Matt Richenthal is the Editor in Chief of TV Fanatic. Follow him on Twitter and on Google+.