Did you dip your toe into The Deep End last night?
ABC premiered this new series, clearly hoping to capitalize on its similarity to Grey's Anatomy. While most of the characters felt like stale versions of multiple stereotypes, it's far too early to judge.
Check out our review of the pilot episode and then our first-ever Round Table discussion on the series below. Reader feedback, as always, is encouraged...
Who is your favorite character?
M.L. House: Addy, and not just due to my crush on Tina Majorino since her Veronica Mars days. I can relate the most to someone that has trouble expressing his/herself, especially when faced with figures of authority.
Dr. Shepherd: Beth. It was interesting to see her interactions with her father and I'm curious to see how this relationship plays out. Also, she's very pretty.
The Barnacle: Liam. Seems like I can learn a lot from that ladies man.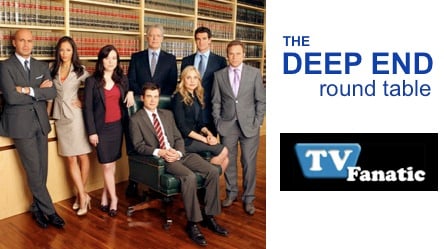 Team Hart or Team Cliff?
M.L. House: Team Hart. Cliff makes it seem as though he wants to run his own company into the ground. But Hart simply realizes there's a middle ground between cold, calculating law firms and those that also takes on important, meaningful cases. I agree.
Dr. Shepherd: Team Cliff. He was the most well-rounded characters on the series premiere. It's not that he doesn't care about people; he just understands his role as the partner in a top Los Angeles law firm. His business acumen helps keep hundreds of people employed.
The Barnacle: Team Edward. Oh... wait. Wrong poll. I'll go with Hart out of sympathy for his wife's condition.
Who is Cliff sleeping with?
M.L. House: It's gotta be Addy, right? We know it wasn't Susan or Beth because they were doing other things (or, in Beth's case, people) at the time he rang that doorbell.
Dr. Shepherd: Someone we haven't met yet, I presume.
The Barnacle: No one. This will be a red herring and he's actually just bringing flowers to a sick relative or something. Maybe even Hart's wife.
What advice do you have for the show?
M.L. House: Focus on Dylan and work in the other characters. Grey's Anatomy worked so well in the beginning by ensuring the audience knew Meredith really well. She was the main character and we learned more about Cristina and company based on her interactions with them. The Deep End, conversely, tried too hard to get everyone involved right away last night.
Dr. Shepherd: Get rid of the goofy cases. I rolled my eyes when it was revealed the grandmother in Dylan's case was also the birth mother of the boy in question. Stick to funny, quirky characters and don't go down the Boston Legal path of really strange cases.
The Barnacle: Shorter skirts on the women.
Matt Richenthal is the Editor in Chief of TV Fanatic. Follow him on Twitter and on Google+.