For a show that treats its viewers with such respect and, as discussed in our review of last week's episode, never talks down to them, the latest installment of The Good Wife was a slight step back.
As often happens on medical shows such as Grey's Anatomy, the case of the week mirrored Alicia's home life a little too perfectly. Read more about it in our recap of "Painkillers."
Did we really need the mother of the deceased high school quarterback to explain how little she truly knew about her son... while Alicia was realizing the same thing at home?
Did we we really need the presence of the nanny to lay out the same issue for Alicia... while acting in such an odd, clearly inappropriate manner that we actually questioned if she was working undercover at the Florrick household?
It was all a bit heavy-handed, which is a backwards compliment for The Good Wife because it felt so unusual. Typically, this series takes pride in the old moniker of good writing: it's better to show than tell.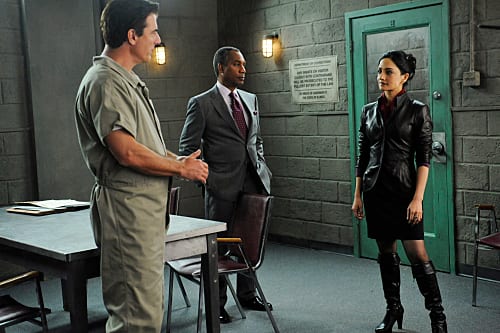 The same issue befell the Kalinda-as-a-double-agent storyline. We really didn't need Alicia to come out and say to her friend that she barely knew anything about her.
Viewers have slowly come to this same realization on their own over the last few weeks, which made the development of her playing both sides all the more intriguing. We truly don't know much about Kalinda, yet we assume she's using Childs to help spring Peter...
... don't we?
But is there a chance she'll end up turning on the Florricks and siding with Childs? Definitely. It's this kind of slow character build-up and subtle mystery that has worked so well on The Good Wife's first season. It's still very much present, of course. It just felt more forced than usual this week.
What did you think?
Matt Richenthal is the Editor in Chief of TV Fanatic. Follow him on Twitter and on Google+.