The Vampire Diaries Pics, Sneak Peek: "Children of the Damned"
Matt Richenthal at .
Ready to visit the 19th century again?
The Vampire Diaries travels back in time next week on the episode "The Children of the Damned." During the hour, we'll greet Katherine once more, as well as James Remar as Giuseppe Salvatore and Kelly Hu as Pearl.
We'll also discover the incident that drove these brothers apart for the first time. Hint: it has something to do with how Katherine got locked in that tomb.
Click on the pictures below for a look at various scenes and characters from the installment: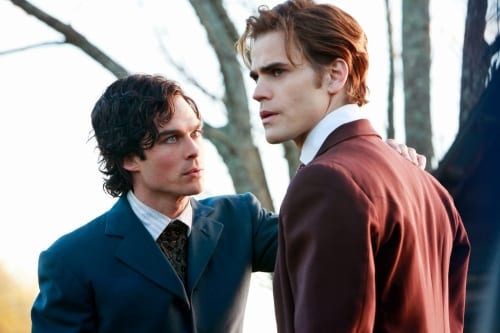 Catch up now on the latest Vampire Diaries spoilers, quotes and music.
You can also watch a clip of "Children of the Damned" below, as Damon interrupts Stefan/Elena sexy time and we learn what the heck a Grimoire is...
[video url="http://www.tvfanatic.com/videos/bedroom-plotting/" title="Bedroom Plotting"] [/video]
Matt Richenthal is the Editor in Chief of TV Fanatic. Follow him on Twitter and on Google+.