Another week, another incredible episode of The Vampire Diaries.
From the name of Alaric's late wife to a new set of blood suckers in town, the revelations came pouring forth on "Unpleasantville." We've already reviewed the hour in depth, but now it's time to delve deeper into various topics.
As usual, fans, feedback on the questions/answers below is encouraged...
Are there too many vampires on the show?
M.L. House: Not yet... but it's getting close. Can we just make a rule: no new vampires for the rest of season one? The shock appeal lessens with each fresh blood sucker. Pretty soon, Mystic Falls will need to change its new to Mystic Full... of Vampires!
LJ Gibbs: No way. Can anyone out there say they knew Anne was a vampire? It's surprising revelations such as this that make the series so exciting.
The Barnacle: No. But there are too many layers of clothing on Elena. Doesn't she own anything skimpy?!?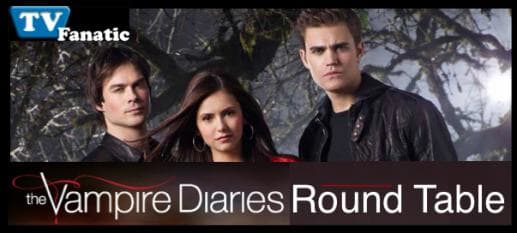 Bigger shock: That Alaric's wife is named Isabel or that Damon can dance?
M.L. House: I'm still in pain from when Alaric said the name of his deceased wife. I think my jaw made an actual dent on the floor. This opens up a seemingly never-ending window of possibilities.
LJ Gibbs: Haha, I loved Damon cutting it up on the dance floor. He's great. I also expected Alaric to have some connection to the Gilberts, but I absolutely did not see that coming. Great stuff.
The Barnacle: Isabel, but I was merely shocked - and disappointed - that the show didn't flash back to her when she came up again. Is it too much to ask for more Mia Kirshner?
Will Stefan's plan work?
M.L. House: No way! Damon is smarter than Stefan realizes and is likely aware that his brother isn't telling the truth. Morever - spoiler alert! - Ian Somerhalder has admitted his character will rescue Katherine at some point this season.
LJ Gibbs: I hope not. Who doesn't wanna see 27 vampires unleashed upon Mystic Falls?!? With the exception of my Round Table cohort M.L. (see his response to question number-one), that is.
The Barnacle: No. It doesn't seem well thought out. I'll lie to my brother about helping him open the tomb and then... what, Stefan? Damon is stronger and faster than you. At what point will you reneg on this promise?
Will Matt and Caroline last?
M.L. House: With a nickname such as Catt, they have a very good chance to.
LJ Gibbs: Yes. Their first kiss actually reminded me of when Pacey and Joey first made out on Dawson's Creek. I just dated myself, didn't I? Well... it did! And - Dawson's Creek spoiler alert! - those two ended up together.
The Barnacle: I don't care.
CHECK OUT A PREVIEW FOR NEXT WEEK'S FLASHBACK EPISODE NOW!
Matt Richenthal is the Editor in Chief of TV Fanatic. Follow him on Twitter and on Google+.