The following review takes place between 6:57 a.m. and 7:09 a.m. Words are written in real time...
It's time to face facts: this season 24 is boring.
We hate to say it, as we're long-time defenders of a program that remains unique and well-produced, but it's worth doing over the storyline that are failing to make our hearts race. They were highlighted during the 11 p.m. hour last night:
Jack gets tortured again. He even pretends to be dead/unconscious... again. We're always impressed by our hero's capacity for pain, but it's safe to say these situations lack suspense at this point. Did anyone doubt Jack would break free?
More internal strife at CTU. Dana has a shady past! Arlo wants to break her and Cole up! Cole is now jealous of Dana and another man! Is this As the Possible End of the World Turns or 24?
The slowest clock in history. Dana left CTU and was situated outside a Jersey City strip club in about ten minutes? It's almost midnight in NYC. You might not drive two blocks in ten minutes.
A double cross seen a half hour away. Anyone that couldn't predict Josef would betray his father must be watching 24 for the first time.
We understand that this is the nature of the show. Our complaints are akin to watching and episode of The Bachelor and whining about how scripted it all seems.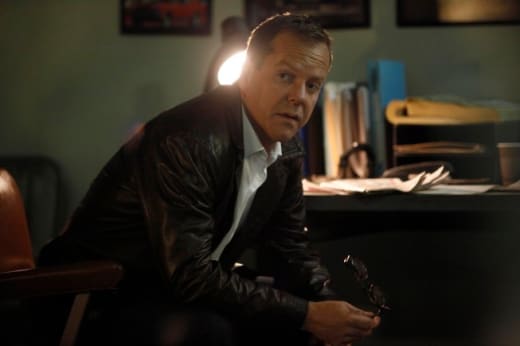 If one is gonna watch 24, one must accept certain plot holes and outlandish, repetitive scenarios. Still... past seasons have given us President Palmer, Tony, Michelle, President Logan. These were interesting, unique characters that we cared about.
The Russian syndicate could be any one of a number of bad guy cliques we've seen before, and this certainly isn't the first time the concept of Middle Eastern terrorism or nuclear materials have been breached.
Wouldn't it be nice if 24 aimed a bit smaller? Season one proved that all of mankind doesn't need to be at stake in order to produce a pulsating, exciting set of storylines. It would be nice to see the show scale things down a bit.
Do you agree? What ratings would you give this episode?
Matt Richenthal is the Editor in Chief of TV Fanatic. Follow him on Twitter and on Google+.