After just one live performance, Janell Wheeler was among four semifinalists voted out of American Idol.
The reasons behind her dismissal were two-fold: Wheeler was visibly nervous, as the microphone shook in her hand; and she stepped outsize her comfort zone with a rock ballad instead of an acoustic piece.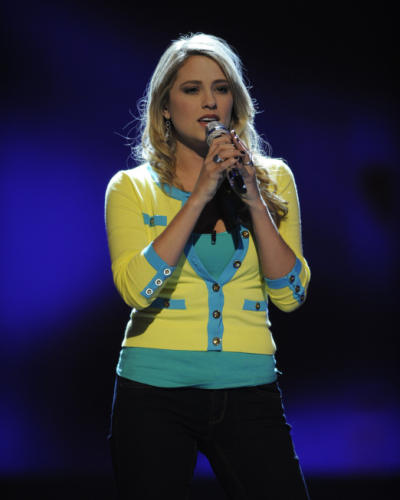 Below, courtesy of an inteview with Entertainment Weekly, Janell dishes on the American Idol experience:
On her song choice: "I really, truly thought I could put a country spin on it. I thought that my voice was strong enough. But I do have some regrets. It's not that I would've chosen a different song; I would've maybe done Heart on an '80s night, or a rock night. I wish I would've stuck to my guns and pulled out my guitar."
On post-show response from the judges: "Kara told me "You have such a unique voice," and that meant the world to me. Ellen — I love Ellen, and I think she likes me too. I think we hit it off [laughs]. Even Randy and Simon, they said great things to me. They gave me overall a good response. I think they were shocked as well that I was going home."
On what's next: "I'm definitely going to be heading home for a little bit, back to Orlando, visit the whole family. They're all so proud of me. We're going to have a big barbecue. And then I'm just writing, getting better with my guitar, getting more stage experience, recording an album."
Matt Richenthal is the Editor in Chief of TV Fanatic. Follow him on Twitter and on Google+.