Our boy Chuck is all grown up!  On this week's episode of Chuck, "Chuck Versus Nacho Sampler," we opened with a flash to Chuck's first meeting with Sarah for a very good reason.  It was time to see how much our hero has grown.
While Chuck certainly still had some bumbling idiot moments this episode, it was nice to see him juxtaposed with his nerd self of the past in the form of Manoosh (Fahim Anwar).  Manoosh literally paralled some of Chuck's moves including declaring it the best day of his life when he met Sarah.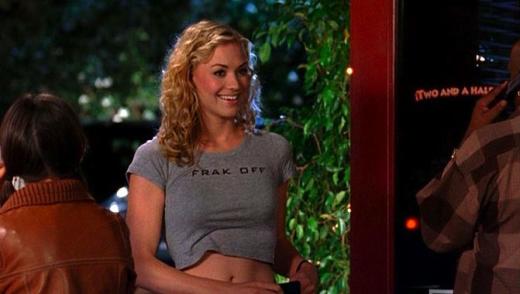 However, Chuck proves how much he's grown when he's able to successfully manipulate Manoosh into thinking their friends, therefore making him an asset, only to burn him.  It's funny to see how much harder Chuck has become, while Sarah continues to become a big softie.
We suppose that's why the ended the episode showing Chuck's "Vicki Vale" moment with Sarah from her perspective at the end.  Very nice parallelism and use of flashback.
Meanwhile, Jeff and Lester did an amazing job as comic relief as they creeped on poor Hannah (Kristin Kreuk) on her first day at the Buy More.  Our only complaint is that they're not really taking advantage of Kreuk's guest starring role and simply pushed her to the back this episode.  The girl is gorgeous, can act, and her character has shown great chemistry with Chuck.  Bring her to the foreground!
That rant over, we have to give it to Casey for the best laugh-out-loud moment of the episode as he read Bartowski's old file when he was supposed to be reading Manoosh's.  Amazing.
The episode was funny, action-packed, loaded with character development and helped moved the plot line as Ellie and Morgan are on to Chuck's double life.  We can't wait too see where this is going next week.
Now on to our favorite Chuck quotes from the episode after the jump.
Casey: When you first met him, did you ever think he'd be able to burn an asset?
Sarah: No.
Casey: He's turning into a spy, that's a good thing.
Sarah: Is it? | permalink
Lester [to Morgan about Hannah]: How'd it go last night?
Jeff: You take her to pound town?
Lester: I'm gonna need an address on that. | permalink
Casey: Credit card charges show mostly video games, comic books. Phone records indicate only one female caller in the last six months: his sister.
Chuck: I feel so sorry for this guy, he seems so alone.
Casey: Oh, whoops. That's your old file, Bartowski. | permalink
Jeff [about Hannah]: I'm gonna totally hit that.
Lester: May the best stalker win. | permalink
Eric Hochberger is the programmer of TV Fanatic, so please forgive his mediocre writing. His programming is far better. Follow him on Twitter and/or email him. Just don't request threaded comments. They're coming.