This was one of the strongest Community episodes of the season, though one aspect felt off:
The last time we saw Jeff and company, they were reacting to his relationship with Professor Slater, most notably Britta, who was clearly bothered by it.
But while there was a funny reference to her at the outset of "Romantic Expressionism" (she has a sense of humor and clearly uses a gold star when appropriate), this episode was almost built around how well Jeff and Britta got along. They seemed like more of a couple than ever before, an odd development on her end at least, given how we last left Britta.
Still, that's a small complaint. This is a sitcom. If it makes us laugh, we're happy - and the half hour was filled with great one-liners and hilarious situations.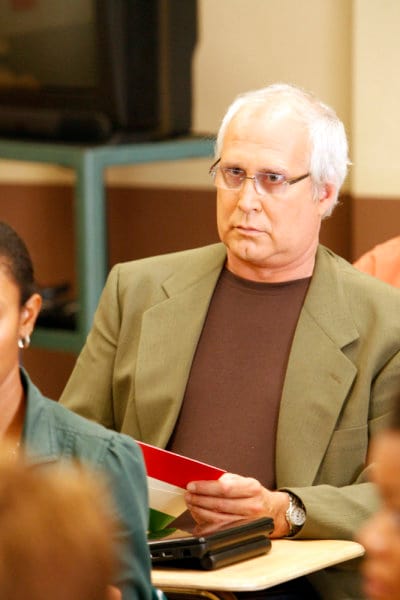 How hysterical was it that Pierce actually consulted with the Greendale improv group for jokes to throw out at Kickpuncher 2? How hysterical was it that they supposedly made a Kickpuncher 2?
The Troy/Abed relationship was a source for humor, as well, whether it was subtle (Annie telling Troy she didn't know where Abed was, but she could call him) or overt (Troy and Abed simultaneously comforting one another with a "they're just jealous" during one study group session).
The scene where everyone sized one another up sexually seemed quite random, but we can't criticize any set-up that leads to Abed's eye-brow raised looks of seduction.
Among other lines we loved:
Troy telling Annie she wanted to cut off a piece of the T-Bone.
Jeff admitting that he did eat all the macaroni. It's weird the old dude knew that.
Vaughn referring to Shirley as "that Sherry Shepherd lady."
Pierce loving gay jokes. Anyone surprised by this?
Abed referring to the group as The Brady Bunch, for both a close-knit and incestuous reason.
Vaughn wanting to take Annie away to look at a cloud that resembles a pumpkin. Awwww!
What was your favorite quote from the episode?
Matt Richenthal is the Editor in Chief of TV Fanatic. Follow him on Twitter and on Google+.