In yet another Britta-centric episode of Community, the character who's hated by half the population, continues to grow into a more likeable, funny character.  Maybe she'll up her percentage to sixty percent by the end of this season.
In "Communication Studies," Britta left Jeff a drunk voicemail at 3 am with heavy BCI (booty call intention), thus shifting the balance of power in their relationship.  In order to restore balance in the group, Abed made Jeff drunk dial Britta in exchange.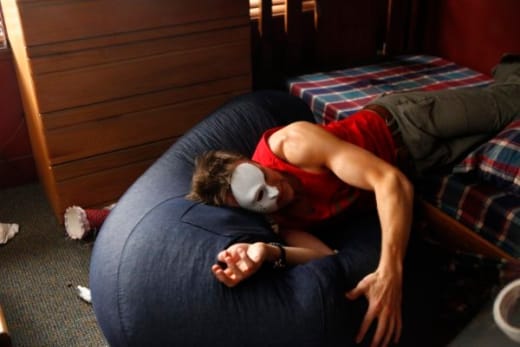 However, when Jeff proved to be a terrible actor, we were treated to one of the most bizzare, hilariously amazing drunken montages.  Like the random delivery boy that hopped in the dancing, we would have done anything to participate in this bender.
The main story line was not only hilarious, but also strong in terms of cementing Jeff's relationship with Slater and pushing off any potential Britta-Jeff pairing for seasons.  That's kind of a good thing because we don't need yet another show based on sexual tension.
Meanwhile, the B story had the unlikely pairing of Troy and Pierce as they sent themselves Valentine's presents to seem cool on the holiday.  Through series of bizzarre events, the two ends up having to accompany Chang as his dates to the V-Day dance to get their language credit.
What we really loved was that Chang made them wear elaborate pants suits, rather than the cliche cocktail dresses to the party.  Seeing Troy get into the booty dancing in body, while trying to maintain a cool face was a true testament to Glover's physical range.  Amazing.
Oh and what Community episode would be complete without a great scene after the credits?  While we didn't get the standard Abed-Troy pairing, Pierce / Change / Troy did just fine in giving us one last laugh before Leslie Knope and friends came on.
Now for our favorite Community quotes that were mostly dominated by acting coach slash drinking partner Abed:
Abed: One Papa John's commercial and he thinks he's Christian Bale. | permalink
Abed: The kid's gonna be a star, he's a young "the asian guy from Lost." | permalink
Abed: Do you like Britta?
Jeff: Sure, who doesn't?
Abed: Over half the people that meet her. | permalink
Winger: She has more fights about something that doesn't matter than a Youtube comments channel. | permalink
Chang: Looks like the law from of Slumdog and Seacrest is taking the day off. | permalink
Eric Hochberger is the programmer of TV Fanatic, so please forgive his mediocre writing. His programming is far better. Follow him on Twitter and/or email him. Just don't request threaded comments. They're coming.