Julie Benz made quite the impression on Desperate Housewives last night, debuting as a stripper named Robin.
The former Dexter star will apparently make an even bigger impression on a fellow character in a few weeks, however.
As first reported by TV Guide Magazine, viewers should expect Katherine and Robin to get especially close later this month.
"Everyone assumed I was going to come in and break up someone's marriage, but there's a whole different twist," Benz said in an interview, and proves in the upcoming scene below: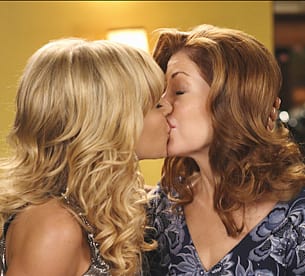 The actress goes on to explain the smooch above:
"This kiss comes out of a funny moment where we're trying to ditch some guys," he said, while Delany adds:
"I asked, 'Am I becoming a man?' And [creator] Marc Cherry said, 'Close' For a woman in her fifties to make this announcement to her community is huge. I hope it sticks."
So do many male viewers, but we can't help but ask:
Is this a logical storyline for the character? Or a publicity stunt for the show?
Matt Richenthal is the Editor in Chief of TV Fanatic. Follow him on Twitter and on Google+.