If ever there were an episode of House that were hit and miss, "Moving the Chains" would be it. For example:
HIT: The evolution of House. It's taken a few months, but the last couple installments have shown us proof that this is a changed man. Does he still tackle problems in a unique, devious manner? Yes, thank goodness. But would pre-mental asylum House have cared at all about Foreman's relationship with his brother?
MISS: It was Foreman whose relationship with his brother was the focus. At this point, it's hard to know if we should blame the writing team or Omar Epps, but there's really nothing interesting about this character. He's been around since season one, yet the show scarcely delves into his personal life. This week's attempt to do so felt like it was too little, too late. The guy has to smile once and awhile for us to care about him.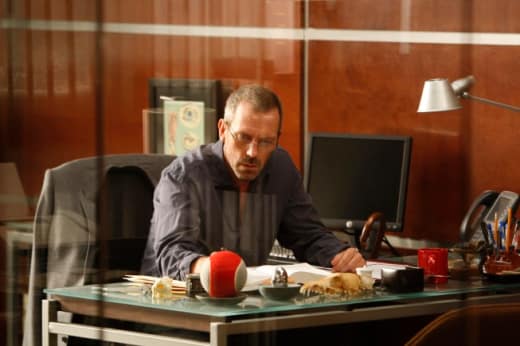 HIT: House and Wilson on the same team. As always, these two are comedic gold as a pair, but constantly going at one another might get old. The show realized this before it got there and actually teamed them up against a common enemy. However...
MISS: Lucas was that common enemy. If only this were the Lucas that's been portrayed every since he returned to the show. But he's been neutered since he started dating Cuddy, acting like anyone but the private detective equivalent to House that he was introduced as last season. It was a welcome sight to see him back to a few underhanded ways, but the effect is lost when he's been used to sporadically and ineffectively the rest of the year.
As for our favorite House quotes from the episode, our rating of it and a preview for next week? Read below.
Wilson: You are the diabolical, yet benevolent puppet master. | permalink
House: The opossum was... meant for me! | permalink
House: Do you know why you're black?
Patient: Because God loves me more than he loves you? | permalink
Wilson: I think you're actually being nice.
House: Oh, shut up. | permalink
Check out a preview for next week's episode right now. It focuses on a day in the life of Cuddy.
Matt Richenthal is the Editor in Chief of TV Fanatic. Follow him on Twitter and on Google+.