Life Unexpected Review: "Rent Uncollected"
at .
We have to say, we love this show. On "Rent Uncollected," we learn more about the families that each of the main characters have.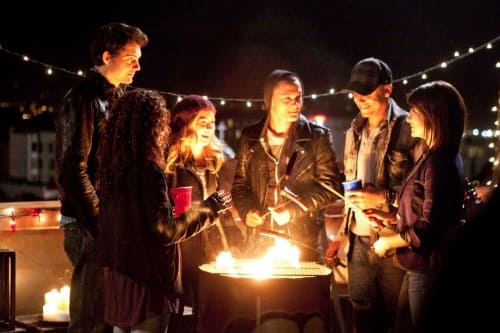 One of the biggest reasons why we love this series so much is because it is different. Especially in our times today, not all people grow up in the picture perfect way - big house, both parents, siblings, and pets.
These days everything is mixed up - kinda another reason why we love Modern Family.
One has to really feel for Lux. Growing up alone bouncing from foster home to foster home really breaks our heart. But what a great kid she has turned out to be. We for sure thought that after she sold the bong lamp and had all her life savings collected she would high tail out of there, but she gave her money to her dad. That scene gave us a tooth ache.
Did anyone else catch the chemistry between Nate and Cate? Looks like their one night stand on the first episode may not be just a one time fling. We kind of like the idea of them together.
Don't get me wrong - I do love Ryan. But, we still have yet to grow an attachment to his character - well other than his super cute proposal. Ugh. It's kind of like The Notebook. On one end you have this amazing fiancé who absolutely adores Cate - but on the other end, you have a potential soul-mate in Baze. What's a girl to do?
It was great seeing them all together in the end at the cookout. We have a feeling that Cate and Baze will get more than they bargained for with Lux's "family". Hopefully, these kids turn out to be good so the next campfire we can have them singing, Kumbaya my Lord as the credits roll out. Just Kidding.
Got to give it up to the CW on this week's episode. We deemed it a 4 star rating - not 5 stars because it was just a little bit too corny at the end with the mother-daughter talk. Cast your votes and don't forget to tell us why you gave it what you did below!
We leave you with a few Life Unexpected quotes:
Lux: I'm use to telling people what to do, but I'm not use to caring. | permalink
Lux: I don't know what's worse having your foster parents treat you like crap or having your own parents treat you that way. | permalink
Cate: Screw em - just screw all of em. | permalink