The momentum of Jet and Cord continued on The Amazing Race this week, as they made one correct move after another and rocketed into first place.
What the cowboys truly have going for them right now is a calm demeanor.  Even while in last place during the premiere, they never seemed to panic or lose perspective on what was in front of them.  By remaining serene, Jet and Cord nailed the painting challenge in the premiere and then masterfully handled bus situation from Santiago to Puerto Varas. 
Their outmaneuvering of the other nine teams put them well ahead going in the two challenges and they finished the leg mistake free for a victory.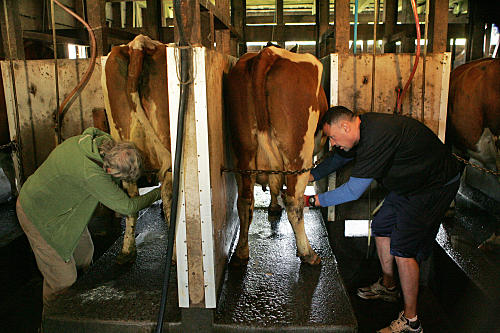 I felt they were the favorites going into the season, but quickly lamented my selection at the start of the race.  Now?  They look unbeatable. 
Their Lone Ranger approach to the game with a singular attitude – only worrying about themselves – they avoid the often petty squabbles and mistakes other teams make by paying attention to their competition.  It has also given rise to their own theme music as we hear the Long Ranger theme anytime the cowboys are leading or make a right move. 
Watching the cowboys laugh at Brent and Caite and Jeff and Jordan while they scurried to try and make a bus with their new theme music playing in the background was the highlight of the episode.
On the other hand, I was really disappointed with Jody and Shannon.  I know that Jody is 71 years old and it is more than impressive that she's even running this race.  I know how sentimental it makes people to see her doing it with her granddaughter.  I know Jody provided one of the best moments of the premiere when she told Michael and Louie that they were getting a home cooked meal for calling her Shannon's mother. 
But there was so much build up to how Jody was not your typical grandparent and wouldn't slow down her partner as previous grandparents have done.  I wanted more of "
Nanna's Kicking Your Butt
," but they were really slow this episode and had no sense of urgency.  Disappointing.
Why do teams make alliances on The Amazing Race?  What is the point of Carol and Brandy, who speak Spanish, allying with Joe and Heidi (or anyone else for that matter) who do not?  Just to have a spot held in line for them by Joe and Heidi for what should have been a bus that put them in fifth place?  Teams get complacent when they're in alliances and think they're in the top group and do not research the due diligence that is necessary to win the race. 
The way Jet and Cord are playing will get them much further than Carol and Brandy.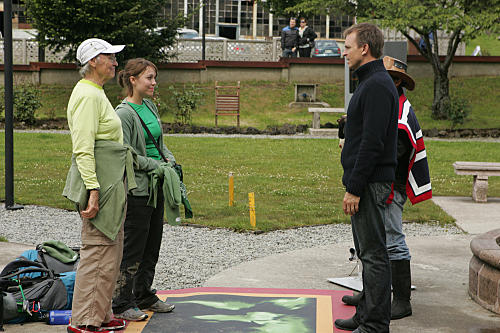 Similarly, I'll never understand why teams help other teams at any point in the race.  Certainly Jeff and Jordan did not have an alliance with Michael and Louie when they pointed them on the right track, so Jeff's decision to help was likely just an act of kindness. 
However, knowing that Michael and Louie only squeaked past Jody and Shannon, is it likely that they'd make the same decision again?  I'd certainly hope not!  Wouldn't everyone in the race rather have Jody and Shannon around than Michael and Louie?
Two episodes into the season, I remain impressed with Brent and Caite, Jordan and Jeff and Monique and Shawne.  The first two teams have yet to show any signs of breaking down and the latter continue to float under the radar (along with Steve and Allie who I'm not sure actually participated this week) but remain strong throughout the race.  On the flip side, Michael and Louie have been very disappointing.  For two guys who pride themselves on being physical they've been unable to use that to make up for their clear lack of mental ability.
We're only two episodes in to the season and have plenty of racing left to do, but there's still plenty to keep our eyes on:
Will the alliance between Carol and Brandy and Joe and Heidi continue to work?
When will the under the radar teams (Monique and Shawne and Steve and Allie) make a move to become players in the race?
Can Michael and Louie straighten out their mental game to match their physical one?
Will Dan or Jordan learn to effectively drive a manual car before getting eliminated?
Is there a team capable of beating Jet and Cord?
Matt Richenthal is the Editor in Chief of TV Fanatic. Follow him on Twitter and on Google+.