The Mentalist Review: "Blood In, Blood Out"
at . Comments
Last night on The Mentalist, we got to see a side of Cho like we had never scene before.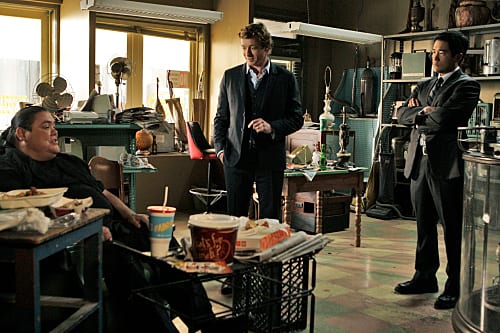 "Blood In, Blood Out" showed us that Cho was not always the bright and shiny CBI investigator that he is today - he once ran with a gang. Cho was so bada$$ he even shot the leader of the gang - KS. What! What! Check Cho out!
How funny was it when Cho was a banger, his name was Ice Man. I loveeeed it. In fact, if I ever do decide to join a gang, I hope I can get a cool 80's name - maybe I could be called Misfit?!
It was really nice to see my two favorite characters on The Mentalist working together to solve this case.  As much as Jane probably annoyed Cho more than he helped him, Jane was able to get Frank to confess to the murder at the end.

Find out a couple problems we had with the episode after the jump!
 Why did Frank have to beat up Cho's girlfriend? I am not familiar with gang etiquette, but is that something you do if someone is hassling your crew?
If Jane knew instinctively that Frank was lying about ever seeing the list, why did he wait so long to say something? And if he didn't - what made him, in the last three minutes of the show, figure it out?
All in all the show seemed more of a space filler than anything else. But, our bottom line is it was mildly entertaining and I couldn't figure out that Frank was the killer at all! Could you?!
We gave this episode an E for Effort - which would translate to a 2.5 star rating. What did you guys think?
We leave you with a couple funny The Mentalist quotes from last night:
John-John: We called him Ice Man - if you wanted something done cold, you'd call Cho. | permalink
Cho: (to Rigsby) You're not getting enough sex from Van Pelt. | permalink
Cho: I'm not a cop tonight, no badge. | permalink