This week's episode of The Simpsons was a some what hyped episode in which Coldplay guest starred at the "Best. Character. Ever" contest winning-character made his debut?
So how did the two publicity stunts go?  Well, although Coldplay's appearance was completely random, it actually got a few laughs for its short screen time.  However, Peggy Black's winning entry of Ricardo Bomba just got spat on by The Simpsons writers as they sent him to a fiery car crash within second of introduction.  Poor form guys.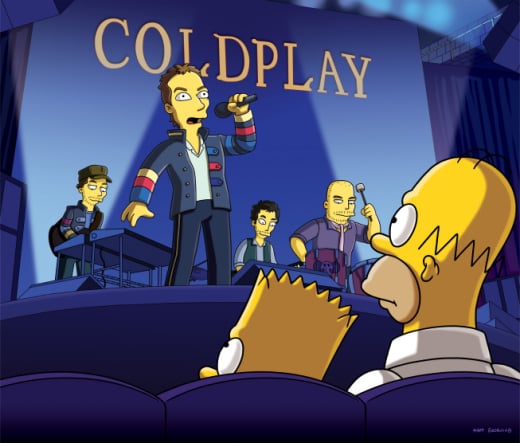 The main plot line of "Million Dollar Maybe" was a take on the generic sitcom device of husband has something he can't tell his wife about, and in this case it was Homer winning the lottery.  Luckily the storyline had enough heart and jokes in it to keep this recycled plotline fun.
Unfortunately, the second storyline of Lisa buying grandpa and his retirement home a Nintendo Wii, err Zii, fell flat.  Although it took some biting shots at retirement homes and its aides, it fell flat on the humor and any real satire.  Weak.
Overall, we would have ranked the episode much lower rating if it weren't for Police Chief Wiggum delivering one of the best lines about a speeding ticket.  You can always count on a Wiggum to save an episode.
You can read Wiggum's line and the rest of The Simpsons quotes from the episode after the jump.
Homer: What should I buy first, a mirror that gives me advice or Hitler's baseball?
Mirror: My advice is to buy Hitler's baseball. | permalink
Clancy: Let him go Lou, someone going that fast has no time for a ticket. | permalink
Homer [about fortune cookies]: Any part of a cookie you can't eat is a waste of time. | permalink
Mr. Burns: Wait, I'm shooting at nazis? That's not how I remember it. | permalink
Eric Hochberger is the programmer of TV Fanatic, so please forgive his mediocre writing. His programming is far better. Follow him on Twitter and/or email him. Just don't request threaded comments. They're coming.