With so many great jokes lined up between the three storylines of this week's episode of 30 Rock, it was impossible not to love "Don Geiss, America and Hope."
The primary storyline belong to Jack as he tried to find his place in Kabletown (with a K) after their acquisition of NBC and Don Geiss' death.  We've been especially loving this story the last couple weeks as it's based on two real world events: NBC being acquired by Comcast and Rip Torn going crazy.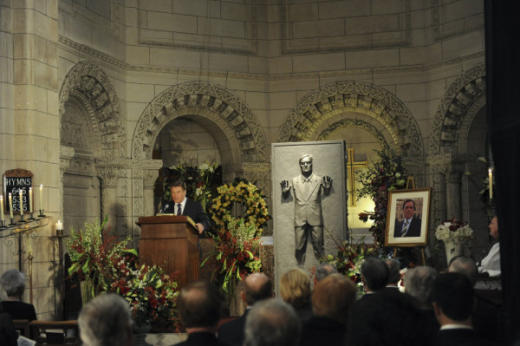 The A story also led to some fantastic jokes including Don Geiss being frozen in carboninte like Han Solo and the LA-Phildelphia-Boston war from the teleconference.  And, yes, we really want to know why the Japanese were wearing women's pajamas.
Meanwhile, the B story of Liz continuing to running into Wesley (Snipes) was definitely strong too.  And really, we're kind of on Wesley's side here.  A pasty British guy is a much better fit for the name, Wesley Snipes.  Plus how can you not laugh at the pathetic Dentist comparing himself to her Cardiologist brother.  "I've only killed on person!"
The weakest of the three storylines belonged to Tracy.  We love the reverse-notion of what Tiger Woods did in concept, but the actual jokes as a result were just not that funny.  Except for maybe Tracy offering Liz some succulent fruit.
Overall, the episode was definitely one of our favorite of the season.  We're going to miss you Wesley.  Hopefully we do get to see you during the May Sweeps.  You know, spring cleaning in England.  Really, how can a show have this many awesome meta jokes!?
Our favorite 30 Rock quotes are after the jump.
Jack: He built GE into the greatest company on Earth, and the Earth into one of the top three planets in the universe! | permalink
Jack: Everybody settles. At one point my obituary was going to read "CEO Of GE Dies Violently In Casino Orgy." Now what's it going to say, "Middle Manager Of A Philadelphia Porn Distributor Never Wakes Up?" | permalink
Jenna: I had this thing where I kept running into Michael Douglas, then I realized it was just some old lady who lives in my building. | permalink
Kenneth: My cousin in Atlanta is a business model. She holds up staplers in catalogs. | permalink
Eric Hochberger is the programmer of TV Fanatic, so please forgive his mediocre writing. His programming is far better. Follow him on Twitter and/or email him. Just don't request threaded comments. They're coming.