Bethenny Frankel is knocked up.
With the reality star's show premiering its third season this week, the Real Housewife of New York City spoke to People about the recent, major changes in her life. A few excerpts:
On the pregnancy: We haven't really figured out what we are doing about the baby's room. We are both clueless. My fiancé, Jason Hoppy, has been looking at cribs, saying, "We have to get the baby's room in order now." I'm like, "Relax, we have [time]."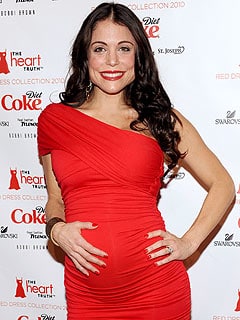 On cravings: I am not drinking alcohol or that much coffee but I'm craving orange juice. And split pea soup — it is like somebody else eating hot fudge. I could die over it. I had a moment a few days ago with a corn beef sandwich. It was like food porn. I was enjoying it so much that it should have been illegal.
On the new season of The Real Housewives of New York City: It was a really crazy season... Being pregnant and emotional it was impossible. There are a lot of things turned upside down. Alliances have changed and friendships have had some tests. Not everything is the same as it was last season.
Matt Richenthal is the Editor in Chief of TV Fanatic. Follow him on Twitter and on Google+.