Despite compiling respectable, if not compelling scores in both weeks one and two on Season 10 of Dancing with the Stars, Shannen Doherty became its first exiled contestant.
Kate Gosselin, Buzz Aldrin and Aiden Turner - all vastly outperformed by Doherty - seemed like prime candidates to go, but only one (Gosselin) was even in the bottom three.
In fact, Pamela Anderson joined Kate and Shannen at the bottom of the heap despite being the fourth highest rated performer by the judges over the first two weeks' dances.
Guess no one remembers Baywatch or the original 90210.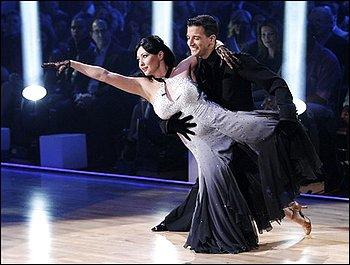 Shannen Doherty got a raw deal from Dancing with the Stars viewers.
In any case, the show dodged a bullet because Kate Gosselin is flat-out terrible, but clearly a ratings draw. We'll see how long that keeps her in business, but for now, she's alive.
The odds-on favorite in this dancing competition/popularity contest is still Nicole Scherzinger, the top performer so far and a likable enough character paired with Derek Hough.
Dark horses to watch: Erin Andrews and Maksim Chmerkovskiy. People love them both, and they've got skills. As does Evan Lysacek, who will keep on earning females' votes.
Steve Marsi is the Managing Editor of TV Fanatic. Follow him on Google+ or email him here.