Glee Spoilers Galore: Cast Dishes on Puck & Rachel, Kurt's New Boyfriend, Lady Gaga Tribute & More
Steve Marsi at .
The stars and producers of Glee appeared this weekend at the Paley Festival in Beverly Hills, where they screened the 14th episode of the season, "Hello," set to air April 13.
Let's just say the scoop gleaned from the Glee cast and producers at the event was off the hook. Can you say Lady Gaga, Neil Patrick Harris and major romance heating up?
Below are some comments from the cast and previews of things to come ...
Forget Team Finn or Team Puck: How about Team Jesse?! Jonathan Groff's character, who is first seen singing Lionel Richie's "Hello" with Rachel (Lea Michele) is fantastic.
Puck and Rachel: Says Ryan Murphy, "Yes, they will get back together. But the thing about Puck is he's a bad boy so he has an affair with almost every girl on the show."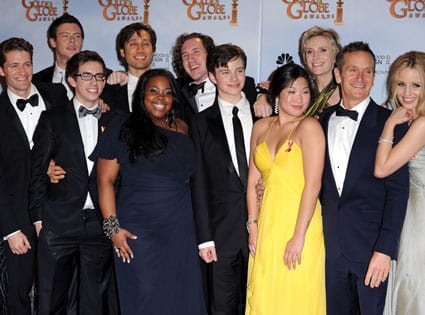 Lady Gaga Is coming: "We're doing an episode that's a tribute to theatricality," Murphy said. We reached out to Lady Gaga and she said, 'Yes, I'd love to be a part of it.'"
Coldplay and Bryan Adams are not: They nixed having their songs covered!
Ryan Murphy on Madonna: "I admire her greatly and I'm friends with her a little bit socially. I called her up and  said we want to write up a tribute to you and she cooperated in every way possible. We do 10 songs altogether. Jane is going to do 'Vogue.'"
No mohawk here: "Puck is trying out a new look," Murphy says. Intriguing.
Kurt is getting a new boyfriend: Kurt's scenes with his father are based on Murphy's experience and written by Brad Falchuk. Ryan: "I'm not interested in him being gay bashed. I'm interested instead in him being popular and confident and a role model."
Finn's mom and Kurt's father will have some romantic tension coming up.
Matthew Morrison on Neil Patrick Harris' role: "We're filming right now with him and Joss Whedon. He plays a high school rival of mine. He got all the girls and the good songs. Now he's on the school board and trying to take down the glee club."
Their two duets: Aerosmith and Billy Joel.
Kristin Chenoweth is coming back in the third episode. Wooo!
Finally, some Sue Sylvester quotes that didn't make it to air:
"Shut your mouth before I rape it."
"I will kick you square in the vagina."
"Rachel wears floor length denim skirts that make her look like she's escaped from a polygamist compound."
Steve Marsi is the Managing Editor of TV Fanatic. Follow him on Google+ or email him here.