Gossip Girl Ready to "Turn Up the Heat" with Chair; Planning "Endgame" For Show's Couples
Steve Marsi at .
Gossip Girl is back in just six more days. Six. More. Days.
As if we weren't hungry enough for some GG, executive producer Stephanie Savage is making us salivate with round after round of interviews teasing the return.
In a chat with E!, she talked about Chair, Little J rumors, a possible Serena-Dan reconciliation, and the endgame she has in mind. Excerpts from Steph below ...
Q: You left us with quite a cliffhanger with Chuck's mom possibly being alive.
SS: Chuck and Blair's big story this spring will be solving the mystery of the lady at Bart's grave. It's a really great Chuck and Blair story that's very emotional. You see them working together, supporting each other in a way that I think fans will really enjoy.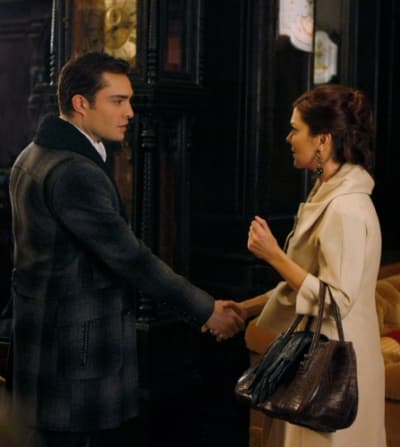 Q: And we've already seen the photos of Chuck coming face-to-face with this mysterious woman. So I take it we don't have to wait long for this story line to be resolved?
SS: The first contact will be made in that first episode back.
Q: One of the things I get asked a lot by fans is whether Chuck and Blair will have any steamy sex scenes. I know it's a network show, but any hope for any steaminess?
SS: We're turning up the heat on all your couples in the second half of the season. I think you will see some of those scenes in a way that people will enjoy and appreciate.
Q:
Are you able to address the rumor about Chuck and Jenny sleeping together?
SS: I want to leave [that rumor] alone. Like when people said Eric was Gossip Girl. Saying 'What? Are you crazy? Eric's not Gossip Girl!' is somehow giving credence to it.
Q: What about Dan and Serena? They've been off for a long time, but some fans still love them. Is that relationship totally dead, or could their romance be resurrected?
SS: I think that the Dan and Serena love story was the spine of Season One and in a lot of ways the premise of the show grew out of their relationship. They are definitely in each other's stories this spring, especially when Serena's dad comes back.
Dan will have a big part in that story. And I think that's a very powerful methodology and couple methodology that we would never wanna turn our backs on completely.
Q: Will any of the couples be together by the season finale?
SS: I'd rather not say. The end of the season is so far away!
Q: The fans are so invested in the show's relationships, and divided on who should be together. Are there ever any heated debates in the writer's room on which way to go?
SS: That's what is so interesting from our perspective, because I've never been on a show where you feel there are really other genuine options [for multiple characters].
On The O.C. we just didn't have that. It was always very clear who went with each other. It's really fun as a writer to feel there are genuine possibilities that can be explored.
I feel we have an endgame in mind, but we're also very open to discovering things along the way - relationships that are not in the books that may even be surprises to us.
You want to have an idea, a game plan, a map that you're following, but we're open to possibilities if you find something along the way that you want to stop and explore.
Q: In the first year, there was a lot of talk about a Gossip Girl spinoff. Is there any talk of that happening now?
SS: No, I think we really like the chemistry of our characters together. We don't want to take one of our characters away from the show and put them in their own show.
Q: What's the current talk about extending the show beyond the college years?
SS: That's a long time from now, but we're very excited about the show. We feel very healthy, we feel that we're figuring out how to do the show not in high school. I think the second half of the season will be really successful in that regard.
The amount of fan interest has been really exciting. We were thrilled when we got our Season Four pickup early. We're taking it one season at a time. New York City has always been much more of the franchise of the show than high school.
What are you hoping to see when Gossip Girl returns? Do you think the mystery woman is really Chuck's mom? Thoughts on the Chuck-Jenny rumors? Discuss!
Steve Marsi is the Managing Editor of TV Fanatic. Follow him on Google+ or email him here.