Gossip Girl would still be Gossip Girl without the weekly plus/minus index in New York Magazine, but it wouldn't be quite as fun. The publication weighs in each Tuesday morning with a unique rundown of events from the perspective of New Yorkers and GG worshipers.
Some highlights from their take on "The Hurt Locket" ...
Bart Bass actually bought his girlfriends lockets with his own face in it. HA. Plus 10, because never underestimate the egoism of the rich and famous.
Damien wouldn't remember Serena after one semester at boarding school. Also, they'd refer to the name of the school, rather than just "boarding school." Minus 10.
The more serious he acts, the more muted Chuck's purple tones become. Plus 3.
Minus 2 for Jenny's plan to smuggle the drugs into the state dinner in a jacket, since you could fit way more pills in the gigantic Dynasty earrings everyone was wearing.
Ugh, Chuck has a pinkie ring. Plus 2.
Why does Blair only wear black and sequins in this episode? Minus 1.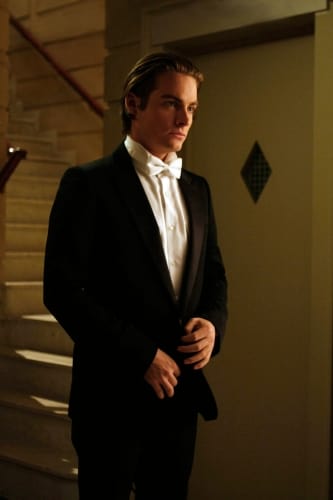 Is Jenny wearing a bedazzled topcoat? Plus 2.
Of course Blair Waldorf has Anna Karenina fantasies. And a fur hat that goes perfectly with a lace teddy, we have to say. Plus 3.
Why would Serena just wear a jacket Damien gave her to a big, fancy dinner event? Wouldn't she have her own outfit picked out already? Minus 2.
Rufus calls out D & J's Parent Trap–style schemes. Plus 3. Also, R.I.P. Lindsay Lohan.
Why was it okay that N & S' hookup was at the Waldorfs'? Eh, who cares. Plus 2.
A waitress at the NYU coffee shop brings Nate a coffee the minute he sits down, like he's a regular. Quaint idea, but sorry. Also, Nate would have some froufrou order with syrups and a foam leaf design that would take at least five minutes to concoct. Minus 1.
Steve Marsi is the Managing Editor of TV Fanatic. Follow him on Google+ or email him here.