As we previously reported, Grey's Anatomy will be down two doctors in Season Seven, with Katherine Heigl possibly added to that list later, but currently up in the air.
Both upcoming Grey's Anatomy dismissals involve Mercy West transplants, which has been rumored in recent weeks. Now we can confirm exactly which ones are out.
Entertainment Weekly confirms pink slips are being doled out to Robert Baker (Dr. Charles Percy) and Nora Zehetner (Dr. Reed Adamson), who won't be back this fall.
As for their fellow Mercy Westers, Jesse Williams (Dr. Jackson Avery) and Sarah Drew (Dr. Kepner), their status is unclear, but rumor is they may be around long-term.
Especially in the case of Williams, it's hard to imagine he won't. Jackson has played the biggest role this season among the Mercy Westers, and generates major buzz.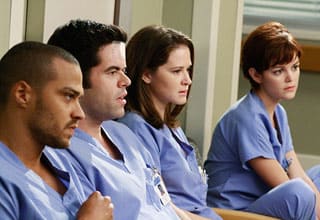 TWO GONE ... and two to go? Or two to stay?
Grey's Anatomy creator Shonda Rhimes has until June to decide whether to exercise series regular options in both the actors' contracts. Do you think that she should?
As for Katherine Heigl's oft-absent character, Dr. Izzie Stevens?
As we told you last month, she's on set and will reappear in April. But for how long? We have no idea, and we're not alone there. Confides an ABC source: "No one knows."
Will you miss the departing doctors at all? Or is it good to actually trim the roster down somewhat? Do you want Katherine to be around next season? Comment away!
Steve Marsi is the Managing Editor of TV Fanatic. Follow him on Google+ or email him here.