How well do we truly know someone? That was the question posed on House this week.
And while guest star Laura Prepon stood out in her role as the blogging patient of the week, and while there were a few memorable exchanges between House and Wilson, both the message and the episode "Private Lives" fell short.
First: Wilson was in a porno?!? The beauty of the House/Wilson relationship lies in how they can turn a simple issue (such as a crush on a neighbor) into a hilarious competition. It's just not necessary to set up such an over-the-top premise. I don't buy that Wilson took part in any adult movie and I'm not as entertained by the obvious jokes that came from it.
I'm certainly more intrigued by House's biological father, but that storyline left me with a question I often have about the show: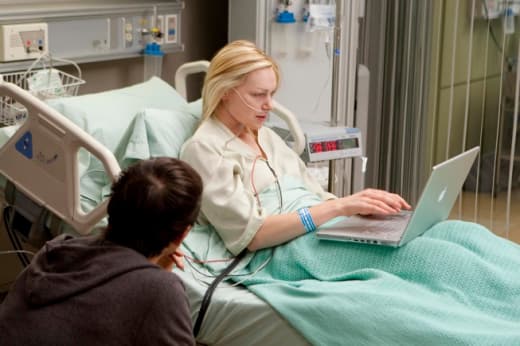 Is this going anywhere? Will we ever hear about House's father again?
The series has a tendency to introduce something seemingly significant, only to return each week to the same premise and pattern. That's why it's been so nice to see references throughout the season to House's stay in the mental hospital. I'm glad it hasn't been glossed over.
But does House really want to change? If so, will he seek out his birth dad? My guesses are: Kind of and No.
I can't say I care very much about Chase's concern over his looks, either. But I do care about this: please don't be setting up a romance between Thirteen and Chase. Most of me believes their locker room exchange was simply a nice moment between colleagues. But part of me fears for where this is going.
What did you think of the episode? We've listed our favorite House quotes from it below:
Wilson: Your biological father is a minister?
House: Natural selection is not an infallible force. | permalink
Wilson: Giving House a computer is like giving plutonium to Dr. No. | permalink
Thirteen: Please don't define my entire gender based on one night. | permalink
House: I can't find my pornos.
Wilson: Have you tried offering a reward? | permalink
Chase: I'm not that good looking.
House: Yeah, you are.
Wilson: You kind of are. | permalink
Matt Richenthal is the Editor in Chief of TV Fanatic. Follow him on Twitter and on Google+.