Last week, Justified debuted on FX with the strongest ratings for a series premiere on that network since The Shield. Check out our review of the pilot episode right now.
What can fans of this new drama expect going forward? Entertainment Weekly has provided the following preview:
Much more Boyd: Walton Goggins' character was slated to be killed at the conclusion of the premiere, but test audiences were intrigued by Boyd. Says star Timothy Olyphant:
"The second half of the season inevitably becomes much more serialized than the first half. The first half you're just kinda letting these things percolate and come up. But around episode six or seven, that's when you really feel like we're cookin' with gas. Toward the final third of the season is when it becomes a classic sort of Hatfield-McCoy thing where there's lots of history between those families."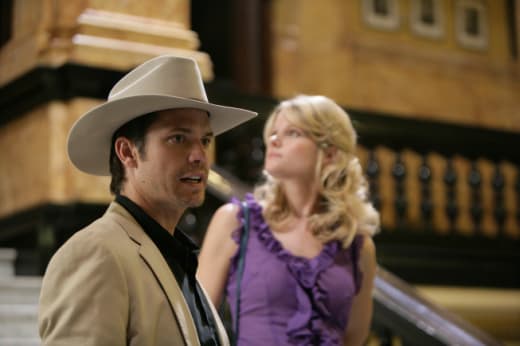 Raylan's dark side: Will he sleep with Ava? Olyphant would only say:
"There's this thing about Raylan that's really wonderful. As cool as he is, he sometimes does things that are arguably kinda stupid... As much as he feels like he's got his sh-t together and is kinda in control of things, he's capable of making mistakes, and mistakes that sometimes have major ramifications."
Raylan's backstory... revealed in a unique fashion: "One of the most attractive things about the character to me is that Raylan often reveals very personal things about himself to strangers, to criminals, as a way to get a point across," Olyphant said, adding:
"It's this wonderful thing that [author Elmore Leonard] does in the books, and I find that to be so fuc-in' cool because it's different from the clichéd character you've seen over the years - you never saw those [lawmen] talk about themselves. The character won't talk about himself to people that he knows, but he often times reveals things to people he's never met."
Justified airs Tuesday nights on FX. You should really watch it.
Matt Richenthal is the Editor in Chief of TV Fanatic. Follow him on Twitter and on Google+.