It's official: 24 won't return for a ninth season.
Star Kiefer Sutherland confirmed the news today, saying executive producer Howard Gordon was ready to call it quits, despite interest from NBC in continuing the franchise.
"The writers are producing the equivalent of 12 films a year, which is unheard of, and Howard felt to do a ninth would be potentially damaging," said Sutherland. "We both felt strongly that there has been a demand and an interest in a 24 film, which would be a two-hour representation of a 24-hour day, so we felt it was time to move in that direction."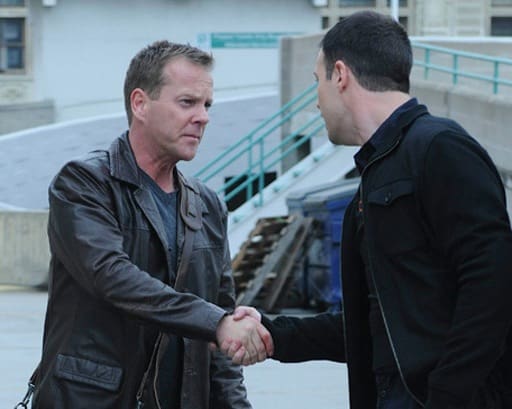 The actor also stated what's been rumored for years: a 24 movie is in the works.
"Something we've dealt with in the series is how the crisis always has to come to us because we don't have time to move anywhere in a real time world," he said. "In a two-hour  representation of the 24 world, planes, trains, and automobiles all of a sudden become a factor because you are not required to go scene by scene in real time. That's something I can say I am very excited about."

As for the actual series finale? Gordon would only say the following:
"We go to a very definitive, very complex place."
Are you sad to see 24 go? Or is it time for the series to say goodbye?
Matt Richenthal is the Editor in Chief of TV Fanatic. Follow him on Twitter and on Google+.