Life Unexpected Review: "Bride Unbridled"
at .
Last night on Life Unexpected, Cate and Ryan had to pretend to everyone that they still were the happily engaged couple and because of this it really showed them both just how much they miss each other. 
One must really feel bad for Ryan. Being cheated on and then constantly having to work day in and day out with that person must be killing him.
To play devil's advocate, we also feel really bad for Cate. She has messed up big time and we definitely don't condone her actions, but the girl has lost everything (accept her job)."Bride Unbridled" showed us that Cate is human just like the rest of us. How sad was the scene when she got her wedding dress? Very SATC Movie meltdown.
On a happier note, we love Jones. He is super cute and really is digging Lux. But, doesn't he have a girlfriend? It was never mentioned that he broke it off with her. He is only sixteen, yet we weren't too impressed with him moving in on Lux when he still had a girlfriend. Poor form, but we still have high hopes for their blossoming friendship.
Jones still got props for taking Lux to see her best friend that lives three hours away. That was a pretty awesome move on his part - but wait, we were a bit confused, was it his idea or Baze's?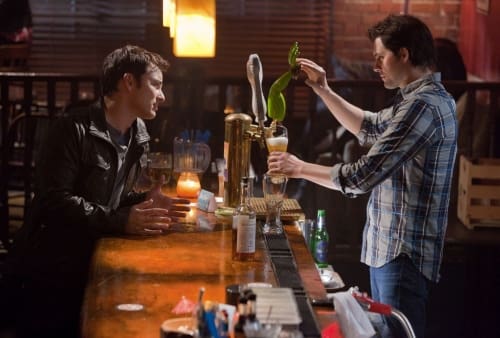 We liked seeing Baze and Ryan sharing a beer together and quasi bonding. Odd, yes, but nice nonetheless. Ryan needs a friend and wouldn't it be something if he and Baze become bros?
We love this show and can't see what will be the next development in each of their lives. What did you guys think? Also, anyone else love that the bong lamp came up in conversation again this week?
Until next week, we leave you with some of our favorite Life Unexpected quotes after the jump!
Ryan: The real question is what the hell is wrong with you. | permalink
Baze: I get that you and Cate have issues - I don't care. | permalink
Math: I'm not a stalker - I'm a long time fan. | permalink
Cate: I made my bed, and now I have to lie about it - awesome. | permalink